Fox News is a circus. And without the ringmaster Roger Ailes, it's a fucking mess.
The network that worked feverishly for fuhrer Donald J. Trump is embolden in scandal. And while its notable agitators continue to demonize the competitors with the accusations of the networks promoting "fake news," one of them actually created a real news story.
The most annoying conservative agitator in the junk food media is accused of pulling a firearm on a fellow agitator after the cameras were off.
You guessed it, it's Sean "Softball" Hannity.
The official softball of the Trump team had pulled his burner on Juan Williams, the Black "liberal" agitator who once said Muslims on a plane made him nervous.
The two got into a heated debate and when the segment was over, the often factually challenged softball pulled his unloaded firearm on Williams and it rattled him and his staff.
Three sources acknowledged that the softball had his laser sight aimed on Juan's head.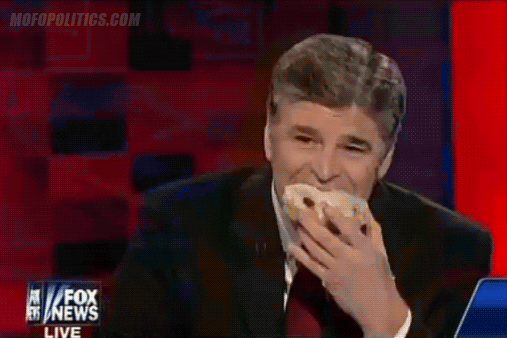 The softball chews down a bagel.
While the softball was joking about it, Williams was disturbed and clearly upset over it.
The softball's colleagues brought the incidents to the top brass at Fox News. Bill Shine, the softball's old executive producer said that "it was all fun" nothing to see here. He said that the two were just "foolin' around" and the matter wasn't a danger to those employed at Fox News.
The incident was however referred to the legal and human resources departments.
The softball made a public statement today. He claims that he was showing the gun. He wasn't playing with it or threatening Williams in any matter.
"While discussing the issue of firearms, I showed my good friend Juan Williams my unloaded firearm in a professional and safe manner for educational purposes only. Every precautionary procedure that I have been trained since the age of 11 was followed. I've had a conceal carry permit in five states for all my adult life. Any other interpretation of this is outright false reporting," said the softball in a presser.
Juan Williams reacts with the usual, I didn't see any problem nonsense.
"This incident is being sensationalized --- everything was under total control throughout and I never felt like I was put in harm's way. It was clear that [the softball] put my safety and security above all else and we continue to be great friends."
Trump is thin-skinned and temperamental. He is a truly narcissistic man who parades himself as the billionaire for the people. Seems like the softball has a little Trump in him as well.
The softball has been on this relentless onslaught of attacking those who oppose Trump. It's embarrassing and conservatives are really starting to notice.
Many believe that this shameless cheerleading, the kookspiracy theories, and hand-ringing are reasons to why Sean "Softball" Hannity is considered the worst agitator in the junk food media.