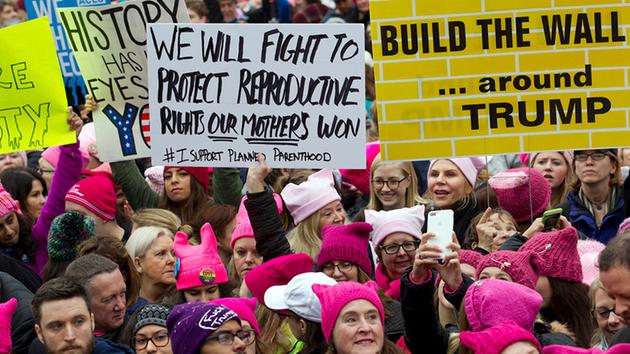 Expect more.
Massive protests happened today and it's grabbed the attention of the junk food media.
This protest was huge. It may have overshadowed the fuhrer's inauguration.
The protests against Republicans and their fuhrer will be ignored. The only way this is ignored is the protesters may find no interest in getting people out to vote. If they were capable of being out after the fact, why the hell they couldn't show up at the ballot box?
I am not a concern troll, but it sure would be nice to see this type of action in 2018 and 2020.
Nonetheless hundreds of thousands attended the big cities to call out Donald J. Trump and Mike Pence for winning on the negative. Many women are vowing to oppose Republican attempts to defund Planned Parenthood, repeal Obamacare and limit access to choice.
Major entertainers and politicians came out to the DC event to rally progressives to resist the government.
The Women's March is the sign of how many American women oppose policies proposed by Republican lawmakers. It also assures that Hillary Clinton supporters aren't going away quietly.
I refuse to tolerate hate. I refuse to tolerate intolerance. I refuse to tolerate sexism, favoritism, nepotism, Islamophobia, homophobia, and xenophobia.
I reject White extremism.
I reject Donald J. Trump and Mike Pence. I reject the notion that "we should get over it!"
And for the next four or eight years, I am going to be unrepentant. I will oppose Republicans if they decide to take us back to the "good ol' days!"
I support the Women's March and I hope to see more activism during the four years of Trump.