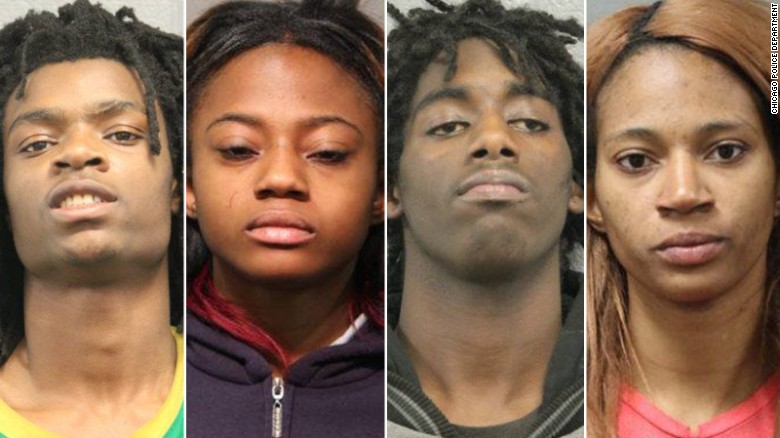 Scumbags face hate crime charges. The scumbags of the internet are lashing at the wrong folks.
Okay, here we go again! The white extremists are trying to trend #BLMkidnapping on Twitter.
They're placing the blame of a kidnapping on the feet of the Black Lives Matter movement. This white extremist movement the junk food media labeled the alt-right are race-baiting plain as day.
Most Americans condemn this brutal attack on a man with special needs. But somehow the issue isn't going away because the white extremists are still pressing for more junk food media coverage.
The four individuals are charged with kidnapping, felonious assault and federal hate crime charges.
Each charge could have them lockup for up to 25 years plus 10 for federal. They are innocent until proven guilty in a court of law.
But in the social world of "fake news" and "boisterous outrage", they're "guilty as sin! Lock 'em up!"
An example of the Internet troll. Jimmy Kimmel mocks the 400 lb alt-right troll.
Now there's agitators online beeyotch-ing about the junk food media moving on to other issues.
There's this douche online who produced videos. I refuse to give this guy any recognition. He's mad that one of the anchors on the cable news circuit said that we should rush to judgment on how this tragedy occurred.
He's right.
These individuals should be charged. They are innocent until proven guilty in a court of law.
What more can the junk food media do? They covered the story and it got attention.
But for the white extremist, it's not enough.
It's unfortunate that in America, the blame game exist. We blame others for the acts of these slimeballs.
Once again, I reject racism. I condemn these slimeballs. I will never rationalize White extremism.
I will not respect the fuhrer Donald J. Trump and those who follow him.