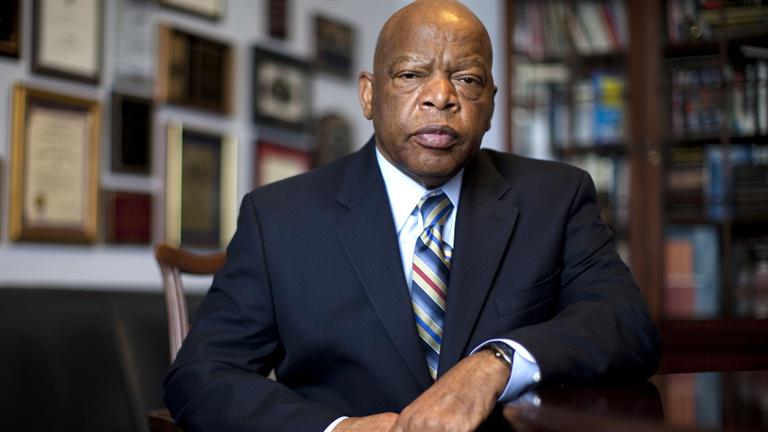 Rep. John Lewis (D-GA) will take the knee. He and the fuhrer are tangling with one another.
Many Democratic politicians are skipping the fuhrer's inaugural. Some are citing their frustrations with the fuhrer's decision to go after Rep. John Lewis (D-GA).
Lewis, a former civil rights activist was critical of fuhrer Donald J. Trump. He said that Trump isn't a legitimate president and it merited a response from the fuhrer on social media.
Trump took to social media to say that Lewis is all talk and no action.
Congressman John Lewis should spend more time on fixing and helping his district, which is in horrible shape and falling apart (not to......

— Donald J. Trump (@realDonaldTrump) January 14, 2017
mention crime infested) rather than falsely complaining about the election results. All talk, talk, talk - no action or results. Sad!

— Donald J. Trump (@realDonaldTrump) January 14, 2017
Lewis took a rock to the head. Lewis felt a dog's teeth through his crotch. Lewis was arrested for peaceful resistance in 1960s and most recently 2016.
While some questioned Lewis's assertion, many others expressed indignation about Trump's outburst, pointing out the unseemliness of attacking a civil rights leader on the eve of Martin Luther King Jr. Day.
Lewis was one of the original Freedom Riders, beaten by police officers while marching from Selma to Montgomery in Alabama.
Omarosa and Darrell Scott attacks Black leaders.
Trump's feud with Lewis carried echoes of his attacks on Khizr and Ghazala Khan, the Pakistani-American parents of an American soldier killed in Iraq, after Khan spoke out against Trump at the Democratic National Convention. Those attacks were widely viewed to have backfired, and Trump later modulated his words about the Khans.
Trump himself has experience questioning a president's legitimacy. He was instrumental in sowing doubts about President Barack Obama's birthplace.
Lewis, who is 76 and was first elected to Congress in 1987, is one of the few genuinely historic figures on Capitol Hill, revered by Democrats and Republicans alike. Allies of Sen. Jeff Sessions (R-AL), and Trump's nominee for attorney general, circulated pictures of him linking arms with Lewis at the 50th anniversary of the Selma march to fend off accusations that Sessions was a racist.
Nevertheless, Lewis testified against Sessions, declaring, "We need someone as attorney general who's going to look out for all of us, and not just some of us."