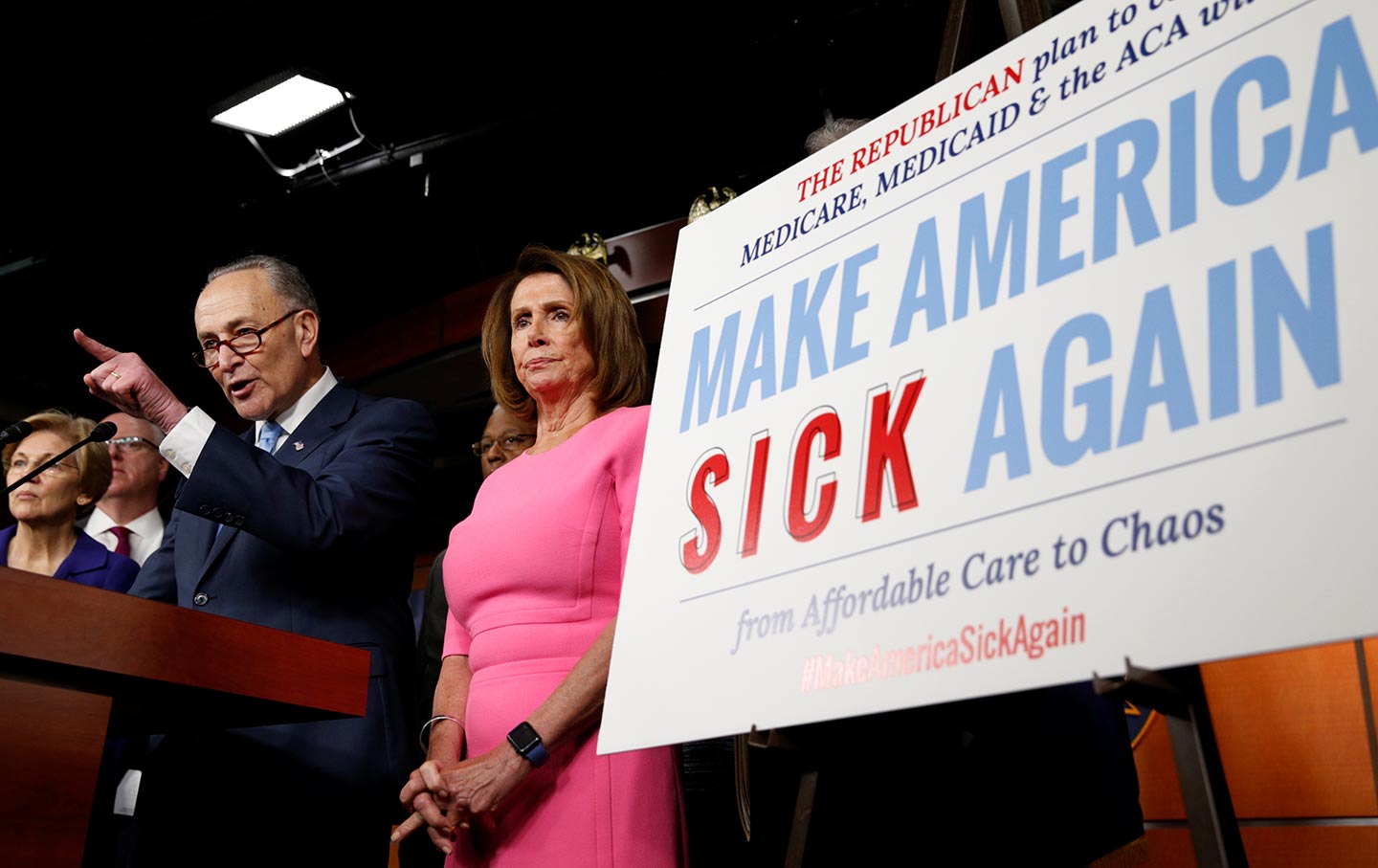 The Democratic Party can't win the battle against stupidity. Republicans vow to repeal Obamacare despite the possibility of causing a backlash against those who enrolled and the agencies that need it. Minority Leaders Sen. Chuck Schumer (D-NY) and Rep. Nancy Pelosi (D-CA) do their presser blasting Republicans.
Stupidity continues to plague the American government. Republicans passed a budget resolution early morning sealing their pledge to repeal the Affordable Healthcare Act.
So if you have pre-existing conditions, be prepared to pay out of pocket because the morons in Washington allowed their egos drive their votes. And they dismissed the anger from constituents as "scare tactics".
51 to 48 members of the Senate gave way to Republicans taking away 20 to 30 million enrolled Americans from having health insurance. Whereas lawmakers can get healthcare for their families, you won't get affordable health coverage for your family.
Now eight years later, Republicans are making good on their promise to "repeal
and replace
" the law.
It comes as no surprise that the fuhrer has nothing to worry about. He's got the best doctors to take care of him and his family. House Speaker Paul Ryan (R-WI) and Majority Leader Mitch McConnell (R-KY) can literally have health care at the drop of a dime. The Republicans are allowing their egos get in the way of making good on helping the American people.
Two cocks in a barrel of monkeys.
Regardless of the scare tactics, Democrats seething from their defeat are promising "no compromise" with the fuhrer. The spineless Democrats (yeah, Heidi Heitkamp, Joe Manchin, Jon Tester, Bob Casey, and Bob Menendez) will stand in the way of getting things done. They want to protect their healthcare and their jobs. They can't even take a bullet for the team. I mean what worthless bunch of lawmakers we elect.
I guess the concern will be now getting rid of liability coverage for drivers of motorized vehicles.
If they repeal the healthcare law, maybe we should strip out liability insurance. After all most states require you to have liability insurance when you operate a vehicle.
The fuhrer wants Republicans to get something out the gate quickly, because they can't pass this law without having a backup. Because if they repeal a law without making any replacement, it's going to be a complicated mess created by ___________!
They'll began blaming President Barack Obama for their decision to repeal the healthcare law.
The Republican Party shut down the government and caused such uproars while in power and now they're rewarded for it.