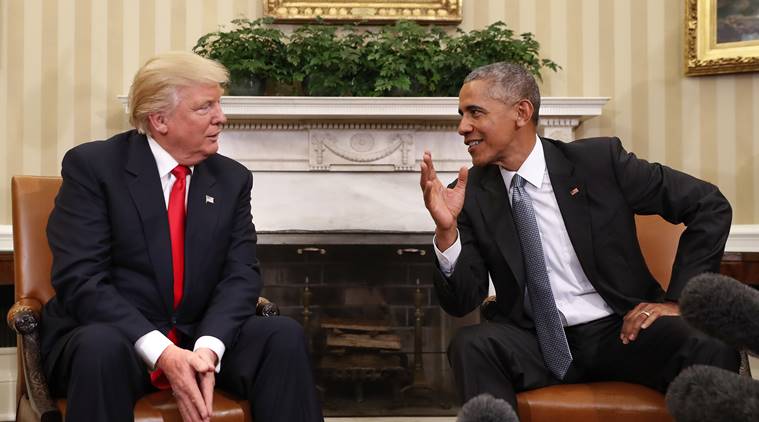 The transition.
Thank you President Barack Obama.
I will miss you and your family. I hope the best for you, Vice President Joe Biden, First Lady Michelle Obama and Dr. Jill Biden. I hope that you guys will stay active in the public sector.
I hope you guys are the vocal opposition towards the Republicans and the incoming fuhrer Donald J. Trump. I hope you motivate Democrats to fight for the people and not big interest. I hope that Republicans prove to the American people once again that conservatism will not work without liberalism as a balance.
I want the Republican Party, Trump and vice fuhrer Mike Pence to fail. I do want the country to fail.
Because this notion to rationalize Trump, Pence, conservatives and the junk food media's rationing of this White extremist movement they called the alt-right is senseless. It's pathetic and disgusting.
I want it to fail. I want more chaos!
Because I believe Trump will be overwhelmed with issues. The stress will get to him and Pence.
They will age 5 times faster with the enormous amount of pressure to do "what's right".
Thanks to Trump and the Republicans, partisanship has now became more toxic than ever.
Even the jobs report for the month of December will be polarized by notions of the false equivalency of 95.4 million not working. Now if 95 million people aren't working there's got to be a good reason to why.
But obviously in the minds of white extremists, Black people are having children out of wedlock and living on the government and blaming WHITE folks for their problems.
The idiots can't figure out that there are 1/3 of the population not working for the reasons given.
1. DEAD
2. BORN
3. IN PRISON
4. IN PRIMARY SCHOOL
5. IN MIDDLE SCHOOL
6. IN HIGH SCHOOL
7. IN COLLEGE NOT LOOKING
8. VOLUNTEER
9. DISABLED
10. STAY AT HOME PARENT
11. RETIRED
12. QUIT ON THEIR OWN
13. NOT HIRING QUALIFIED
14. NOT HIRING TOO QUALIFIED
15. FIRED FROM THE JOB
Okay, the unemployment rate is the signs of a stable economy. The unemployment rate ticked up to 4.7%. The employment in December was a net of 156,000 jobs.
The unemployment rate ticked up from a nine year low as more people are entering the job market which speculators see as a sign of confidence.
We will continue to engage in the job market. When Trump takes the helm, we will follow the unemployment rate.
The jobs are here and the Republicans won't give Obama the credit for it. Once Trump take the helm, he will find some way to blame Obama for the mess he creates or the take the credit for the successes that Obama did.