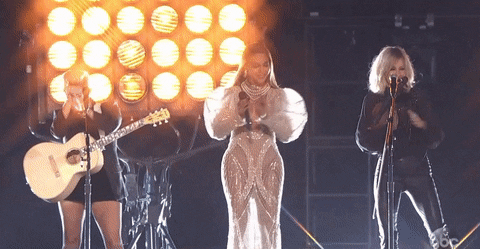 Beyonce surprise appearance at the CMA.
Beyonce made a surprise appearance at the Country Music Awards to perform a duet with The Dixie Chicks, Wednesday.
The queen of pop and the country music trio started off their set by giving a shout out to Texas. They all grew up in Texas. They collaborated for a remix to Daddy Lessons. The album comes from Lemonade, the visual album.
The audience were on their feet when Queen Bey performed.
Many country music stations refuse to play the song because they don't believe it's a country music song.
The song went viral. Now it's streaming its way to Billboard's top spot in not only mainstream but country.
Many in the audience didn't expect Beyonce to appear at the awards. Brad Paisley confirmed Queen Bey's appearance in the second hour of the show.
2016 CMA Awards -- Beyoncé and the Dixie Chicks
by videosuploaded