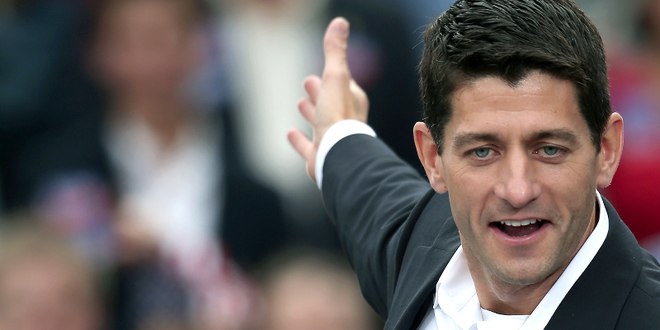 Sideshow. House Speaker Paul Ryan (R-WI) is facing a mutiny once again.
Rep. Paul Ryan (R-WI) is the Speaker of the House. He was the former 2012 vice presidential nominee to perennial loser Mitt Romney. He knows what losing feels like.
Today, he knows the game's over for Republican nominee Donald Trump.
He said he will no longer campaign with Donald Trump and Mike Pence. He says that he will focus on keeping the House and Senate in Republican hands. He knows that the impact of Trump's words could damage their chances to hold onto the Congress.
Ryan on phone conference said, the Republicans "need to do what's best for their district."
Ryan pissed off the conservative members of the House. Some have called Ryan spineless and a "fucktard" for not backing the nominee.
"I am willing to endure political pressure to help protect our majority."
It seems like the House majority is at risk of being rattled by Trump's campaign.
The move -- highly unusual in US political history -- laid bare the seemingly intractable divisions now seizing the Republican Party with a month left before the presidential vote. Support for Trump among the GOP establishment, already weak amid disagreements over policy and tone, has now eroded to new lows.
Ryan joins a number of many other Republicans angry over the whole Trump ordeal. The tape were offensive and disturbing and it put a major dent in the Republican nominee's campaign.
Rumors are flying that Kellyanne Conway and Mike Pence might abandon ship. They flatly denied the rumors of them leaving the campaign.
Looks like Donald Trump isn't taking this one lightly. He went to Twitter to call upon Republicans to denounce Ryan and Sen. John McCain (R-AZ). He called upon Republicans to not support those who refuse to support him.
Paul Ryan should spend more time on balancing the budget, jobs and illegal immigration and not waste his time on fighting Republican nominee

— Donald J. Trump (@realDonaldTrump) October 10, 2016
The video from MSNBC and Today host Tamron Hall.