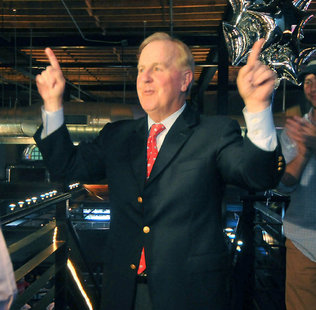 Republican lawmaker insults his constituents.
Rep. Robert Pittenger (R-NC) is walking back his comments about the unrest in Charlotte. The lawmaker represents the city and the suburban south. He said these comments on a foreign news channel. He insulted 1/3 of his constituents yesterday on the BBC.
When asked about the unrest in the city, Pittenger basically said that the protesters "hate white people because white people are successful and they're not."
Newsflash: There are White people involved in the protest.
This the sixth fatal shooting by the police. The police refuse to release the body camera and dash camera footage for fears it may spark more violent protests.
The family of Keith Lamont Scott saw the video. They demand the Charlotte-Mecklenburg Police release the full encounter. They continue to stand firm that Keith didn't have a firearm on him.
Pittenger with Donald Trump.
The law said that a firearm was retrieved on the scene. According to the law, they were serving an arrest warrant to another figure when they stumbled across him.
The Republican Party is desperately trying to win over non White votes. Donald Trump boasts he is winning with Black, Hispanic and the youth vote. Will this set him back?
This is the deplorable behavior of the Republican Party. This is how Republicans think of President Barack Obama and Black America.
The governor Pat McCrory ordered the National Guard to Charlotte.