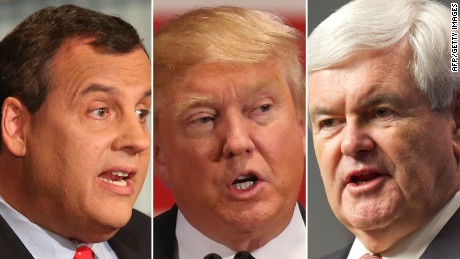 Two gas bags are in the running for being Republican gas bag Donald Trump's running mate.
It's starting to get really interesting. Donald Trump is close to picking his running mate.
Will this running mate make a difference in an already struggling campaign?
Will it be a guy who gave President Barack Obama a special shout out for the handling of Hurricane Sandy? A guy who is routinely mocked for being obese, a bully and a flagrant jackass. A man who had his crew stop the George Washington Bridge to spurn a mayor who refused to back him. Would that be a choice?
Or perhaps will it be the guy who said that Obama is the "most successful food stamp president"? A guy who has the shares one thing with Trump: marriage three times. A failed Speaker of the House who got on the nerves of Bill Clinton. A gas bag who goes to CNN or Fox News to share ineffective advice on how to win elections. A guy who mocked the 2012 Republican nominee as a
"French" elitist.
They are on a short list of vice presidential candidates for Republican presumptive nominee Donald Trump.
The 2016 failed presidential candidate Chris Christie and the 2012 failed presidential candidate Newt Gingrich are on the shortlist of candidates.

Others include Sen. Jeff Sessions (R-AL), Indiana governor Mike Pence, and Scott Brown are the other candidates that are seeking the bid.
I am so tired of the Republican Party. I am so frustrated with Donald Trump, the inept Republican congress and the conservative agitators.