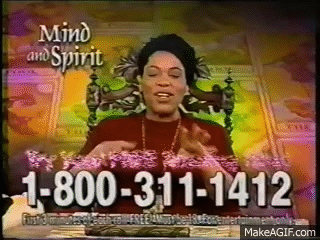 She couldn't predict her own death. Miss Cleo aka Youree Harris passed away!
"Call me now!"
The words of the famous words of TV psychic Miss Cleo. Well the junk food media broke the news that the actress behind the controversial Psychic Readers & Friends Network passed away today.
Youree Harris, the self proclaimed psychic who swamped the networks with commercials during the late 1990s until mid 2000s.
She passed away from complications with cancer. Harris also went by Ree Perris, Youree Cleomili, Youree Dell Harris, Rae Dell Harris and Lady Cleo. Although she had the Jamaican accent, Harris was originally from Los Angeles.
She grew up in Seattle, and trained in voice acting and landed a few roles on television during the 1980s.
Her big break came when she put on the Carribbean head scarf and started winging it with the voice of ya shamen! Those commercials were annoying as hell. They were everywhere.
They were pulled after the Federal Trade Commission and U.S. Department of Justice ended the charade. Prosecutors took a hold of her birth certificate to show that Harris was born in Los Angeles and not Jamaica.
She would be the subject of a "deceptive advertising, billing and collections practice". The company sponsoring the Psychic Readers & Friends was indicted. Access Resource Services was fined $5 million in damages.
.
When the feds ended the Miss Cleo ads, Harris was struggling for a job. She wasn't being paid the millions of dollars the company intaked. She took a nosedive in her career.
The only thing besides playing Miss Cleo, Harris lent her voice to Grand Theft Auto: Vice City. She played Auntie Poulet, a Haitian voodoo shaman and drug lord.
World News Today send our condolences to the family of Miss Cleo (aka Youree Harris).