The Speaker of the House posted a harsh reality about the Republican Party's lack of diversity.
Day one of the Republican convention and it's already attracting controversy.
On 60 Minutes, Donald Trump and Indiana governor Mike Pence were interviewed by Lesley Stahl and it turned into a disaster. Trump called out Hillary Clinton, then a senator for supporting the war in Iraq. He gave Mike Pence, then congressman a pass for the vote. Pence could not really muster a word in.
It was pretty awkward interview.
Chris Christie, the governor of New Jersey and washed up politico Newt Gingrich are furious. They weren't picked. Gingrich has so far brushed off his frustration by saying that all Muslims should be deported if they support Shir'a law in the United States. Gingrich attracted international condemnation for that.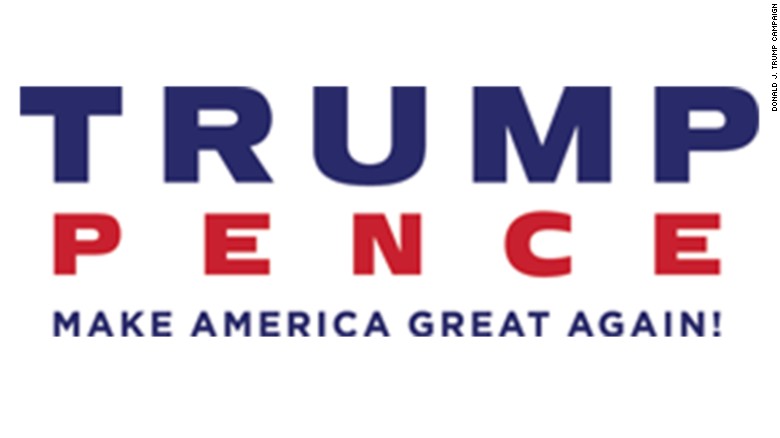 Second logo.
Trump also cancelled the official logo. He rolled out his new logo after the first one got slammed for being sexually offensive.
House Speaker Paul Ryan (R-WI) innocent selfie with congressional interns turns out to be a big epic fail. He posted on social media his "record" setting intern counts. The selfie was posted yesterday and it managed to attract attention.
It's most full of White interns.
It shows the problem Republicans have with Black, Hispanic, Asian, LGBT and Muslim outreach.
Donald Trump will introduce Melania to the stage tonight at the Republican National Convention. It's unconventional and it's a little out of the norm. I heard that Scott Baio is the major "A-lister" to attend the convention. Willie Robertson of Duck Dynasty. Two actors from CBS's The Bold and the Beautiful are scheduled to speak too.
The convention will be missing some big guests. Perennial losers who ran for president, Mitt Romney, Ohio governor John Kasich, Sen. John McCain (R-AZ) or Bob Dole will not attend. No Jeb Bush, no former presidents George H.W. or George W. Bush, no Dick Cheney, no Condoleezza Rice, no Sen. Lindsey Graham (R-SC), no Sen. Rob Portman (R-OH), no Sen. Kelly Ayotte (R-NH) and no Sen. Mark Kirk (R-IL).
Portman. McCain, Ayotte and Kirk are facing tougher elections. Graham is furious at Trump for winning and this is a protest against him.
Speaker Ryan loves selfies. He got washed up politico Newt Gingrich (a former speaker) in one.
Here's some real harsh words for House Speaker Paul Ryan.
Congressman Paul Ryan of Wisconsin, Honorable House Speaker, what have you for me lately?
I mean you waste more time taking pictures than passing laws that could increase the minimum wage.
I mean you and the House and Senate take more vacations than the president and the average middle class worker.
I mean you and Republicans can't even put a bill on the floor for a firearm background check. We have too many senseless mass shootings.
GUN VIOLENCE IS THE NUMBER ONE THREAT IN THE UNITED STATES.
You and the Republicans can't get it through your peanut heads that you lack the ability to get things done.
I am hoping that the folks of your swing district pressure you to get things done on the national level.
Notice anything in House Speaker Paul Ryan's selfie.
I hope this selfie shows the country a reminder that you and Sen. Mitch McConnell (R-KY), the Majority Leader of the Senate are inept lawmakers.
I know in the beginning you didn't want the position of being the Speaker of the House. I mean they pressured you to do such and lose your gig as the House and Weights committee chairman. You managed to get over the landslide loss you and perennial loser Mitt Romney had. I mean I thought I would hear less of you. It's unfortunate that you're in the news more than expected.
Wisconsin is sure having some of the most annoying things there. The state has that showboating asshole Milwaukee County sheriff David Clarke in the news, Sen. Ron Johnson (R-WI) facing former senator Russ Feingold, and governor Scott Walker's embarrassing run for president are signs of the state being screwed up.
The Republican Party is like cocaine. It's 90% WHITE and 10% everything else. It's either snorted through a straw or a dollar or lit in a flank as a crack.
The Republican Party is on crack because they wigged out on some dumb shit.