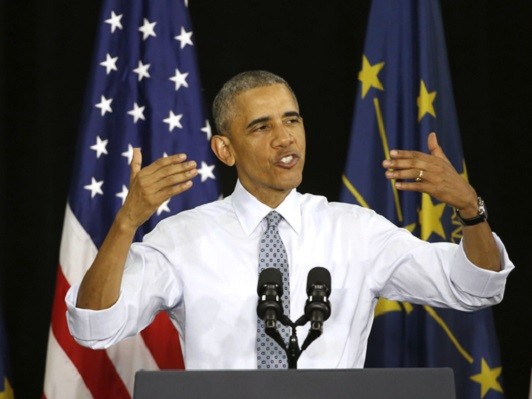 Obama let's America know that Republicans, Donald Trump, Fox News and Rush Limbaugh are peddling fiction about him.
President Barack Obama goes H.A.M. on Fox News, The Drudge Report and AM agitators.
The president returns to Elkhart, Indiana to discuss the economy. He decides to tell the people of deeply conservative Indiana, he understands why they don't like him. He said that they're just too much noise in the room and it's drowning the truth. It's giving reasons to why Donald Trump still exist.
The president address the issues with Republicans and how they can communicate through outlets like Fox and old farts like Rush Limbaugh and Softball Hannity.
"Now, I haven't tuned on Fox News or listened to conservative talk radio yet today, but I've turned them on enough over the past seven and a half years to know I'm not exaggerating in terms of their story. That's the story they tell. You can hear it from just about every member of Congress on the other side of the aisle. Instead of telling you what they're for, they've defined their economic agenda by what they're against, and that's mainly being against me. And they're basic message is anti-government, anti-immigrant, anti-rade and let's face it, anti-change."
Here's how The Drudge Report ran the shot across the field.
For years, Republicans tuned into Fox News, Rush Limbaugh and The Drudge Report for their daily agitation about the world. It's the reasons to why Donald Trump is the presumptive nominee for the party.
Out the door is their strategy to win back voters who believe the party is too WHITE, too MALE, too STUPID and too BIGOTED.
Out the door is their strategy to at least focus on issues facing the middle class.
Republicans and their conservative allies keep WHITE PEOPLE mad with issues like the president's stuttering and him criticizing Trump for pulling shit out his ass.
Mind you at the PBS Newshour town hall I don't see the president stuttering.