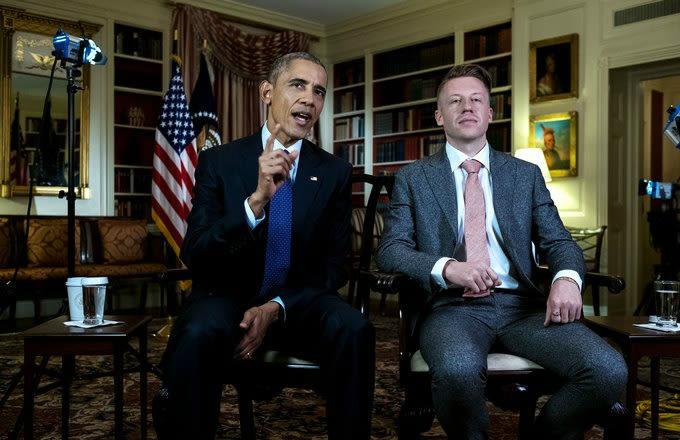 Macklemore talks about drug abuse with President Barack Obama.
Rapper Macklemore had an opportunity to discuss a very personal issue in President Barack Obama's weekly address. He was in attendance of the White House at a dinner for the Nordic leaders and had an opportunity to address an issue that affected him and his family.
In the weekly address, Obama pressed on Congress to pass legislation to help curb heroin addiction.
Macklemore will be the first rapper in history to involved in presidential message to the nation.
Macklemore, 32, whose real name is Ben Haggerty, has been open about his prescription-drug and alcohol addictions. He was first arrested at 15 and ended up in King County Juvenile Drug Court. He entered rehab in 2008. During the Saturday address, he mentioned his friend Kevin, who died at 21 from an overdose of painkillers.
The hip-hop artist is sober, but his struggle with addiction is an ongoing process, he's said previously.
Macklemore who became a mainstream success with the hit single "Thrift Shop" was there to discuss the heroin epidemic. The epidemic is spreading across the country and the law can't stop it. He is a Grammy award winning rapper/producer and actor.
"Addiction is like any other disease — it doesn't discriminate," Macklemore said during the address. "It doesn't care what color you are, whether you're a guy or a girl, rich or poor, whether you live in the inner city, a suburb, or rural America. This doesn't just happen to other people's kids or in some other neighborhood. It can happen to any of us."
Macklemore is "an advocate who's giving voice to a disease we too often whisper about: the disease of addiction," Obama said.
A conversation between Obama and Macklemore on opioid addiction — and what can be done to address the problem — will air on MTV this summer.
Heroin and Fentanyl are extremely addictive drugs. My former friend is either dead or surviving on a thread. She was inspiring to be a travel agent and worked a local hotel in Dayton. She quit the job to become a prostitute who sells her body on Backpage. I once had feelings for her and sympathy. I tried to help her by giving her a number to a friend who is a therapist. She refused help and said that she rather "get high and die"!
I gave up on her after she was allegedly dating a local dope pusher. So it's been over five months since I've last talked to her. I don't know if she's still alive.
Heroin (or Boy for street slang) has the White girls and boys going crazy.
White people are addicted to heroin came directly from addiction to pain killers and medication.
It's claimed over 40,000 people's lives a year. And the issue is getting worse. Matter of fact, HIV, the deadly disease is being spread faster through needle sharing and unprotected sex with an alleged user.
Do you know someone who is addicted to pain killers or heroin?
I know a few and I do worry about this.