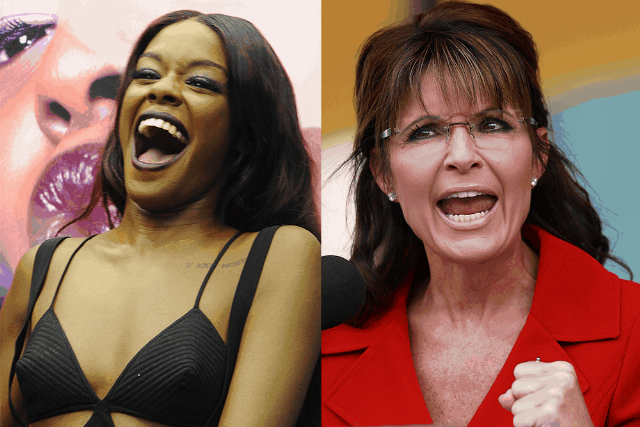 The rapper tangles with the agitator!
The queens of mean
tangle with one another. It came to an offensive posting by controversial rapper/model Azealia Banks taking aim at the verbal garbage Sarah Palin spewed in Wisconsin.
Palin said that "real Americans" shouldn't apologize for the horrendous acts of the founders. She basically involuntarily said in an opinion piece that "slavery was justified".
Banks didn't appreciate that. Seeing that she follow politics, she struck Palin hard.
The rapper said that Palin should be gang raped by a group of Black men. That shot across the social media got the conservatives riled up. Conservative outrage poured into the social media.
Mama Grizzly isn't pleased about the offensive shot and she threatened to sue.
Banks got an earful from her publicist and media agitators. She was forced to own up and apologize for posting such an offensive tweet. The rapper said that she doesn't condone rape on anyone.
Note: Palin is the former governor of Alaska and supporter of GOP frontrunner Donald Trump.
Banks is a supporter of Bernie Sanders. She was previously a supporter of Trump.
Banks follows politics very closely. She complained that conservatives are ignorant assholes. She said conservative agitators like that old fart Rush Limbaugh and Matt Drudge can eat a dick.
U
NDERSTAND THIS: RAPE IS RAPE! THERE'S NOTHING FUNNY ABOUT IT!
RAPE VICTIMS OFTEN NEVER TELL THE LAW FEARING THREATS OF VIOLENCE AND THE THOUGHTS THAT NO ONE WOULD BELIEVE THEM.