Larry Wilmore hosts the WHCD.
For all that are interested in the events of tonight, you may see the White House Correspondents' Dinner tonight. Most of the cable news agitators will cover tonight's event.
This will be President Barack Obama and First Lady Michelle Obama's last appearance at the annual ball of journalists, celebrities and lawmakers.
Larry Wilmore of The Nightly Show will be the host of tonight's event.
Sen. Bernie Sanders (I-VT), the Democratic candidate for president will be there in attendance. The others declined attending.
Ohio Gov. John Kasich, Hillary Clinton, Donald Trump, Sen. Ted Cruz (R-TX) and his running mate Carly Fiorina declined attendance.
Wilmore who is the senior Black host and commentator on The Nightly Show and The Daily Show will be skerring Trump.
In 2011, Trump attended the event at the peak of his feud with the president over his birth certificate.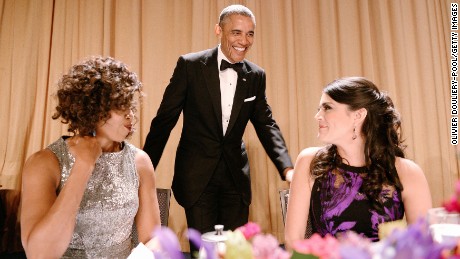 Obama will likely go after Donald Trump, Fox News, The Drudge Report and CNN.
Obama hammered Trump for that one. Seth Meyers was mocking Trump, Sen. Rand Paul (R-KY) and father Ron Paul for their stupid ambitions of running for president. The president was laughing and having a good time. He also was being fed information about a major break in the fight against terrorism.
To add insult to Trump, on the season finale of Celebrity Apprentice, NBC News interrupted the program to announce that U.S. forces caught Osama bin Laden in Pakistan. This will be fifth anniversary of the successful raid that lead to the capture of the al Qaeda leader.
The cast of black-ish, Modern Family, Scandal, House of Cards, The Daily Show, and Empire will be in attendance.
I will give you the livestream if you're interested in watching the event. You can visit the official White House
live
feed for all events that features the Obamas, Vice President Joe Biden and Press Secretary Josh Ernest.