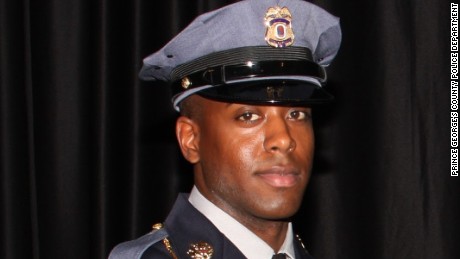 Four year veteran of Prince George's County murdered by callous terrorists. Jacai Colson was a 28-year old member of the law and lost his life serving his community.
Tragic shooting in Maryland. A four year veteran of the Prince George's County police was shot and killed. The terrorists in the fatal shooting were local brothers.
Malik and Michael Ford, were the terrorists. They came from suburban Washington, DC and they allegedly ambushed lawmen.
Police claim that the brothers were wounded after getting into a firefight with the law.
Jacai Colson was killed after the gunfire settled. He was a undercover narcotics officer who worked on the force for four years. He was shot outside the police station on Sunday afternoon. His fellow officers rushed him to the hospital, where he would die of his injuries.
Police did not release a motive for the shooting, and Prince George's Police Chief Hank Stawinski told reporters that the attack "wasn't about anything".
One of the terrorist was taken into custody after being hit with gunfire. The other was caught by Popeye's Chicken and Biscuits a few blocks from the shooting.
Malik and Michael Ford are innocent until proven guilty. The charges alone could put these two in the iron college for LIFE. I believe Maryland doesn't have the legal execution.
As expected, the concern troll will react to the death of the police officer. Seeing that the officer slain was Black and the terrorist were Black, conservatives will run this nonsense about how #BlackLivesMatter, Barack Obama or whatever entity are "truly" responsible for the "act of cowardice".
Therefore, here's a poll for you!
The law has caught the suspects in the killing of a Maryland police officer. Who really takes the blame for this?
World News Today send our condolences to the family of Jacai Colson.