Jamie Gilt got bucked by her own son.
You would think that in America, you would understand that owning a firearm comes with a huge responsibility. Unfortunately, leaving a firearm in plain view is extremely dangerous when your own child gets a hold of it.
Jamie Gilt learned the hard way of leaving her firearm in plain sight. She was severely injured by her 4 year old son.
Gilt is a pro-gun activist who probably trolled on social media her views on President Barack Obama, Sandy Hook and #BlackLivesMatter. She probably was hoping that day would come when she would take advantage of those no good thugs who harm White people and those in law enforcement.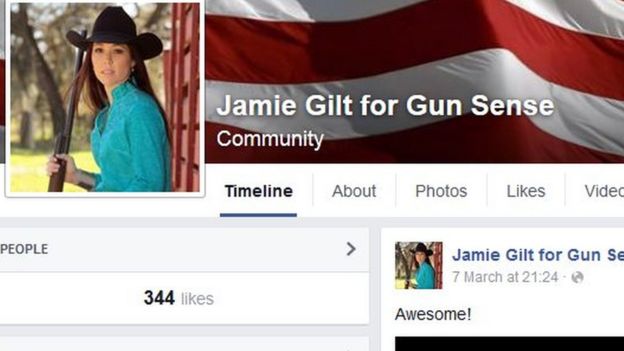 Will Jamie change her views on firearms?
It was her own undoing that led to this tragic shooting.
The Putnam County sheriff and children's services are investigating why the child got a hold of the firearm. The law's news release says a deputy saw 31-year-old Gilt of Jacksonville behaving frantically inside the truck Tuesday afternoon and quickly realized she'd been shot.
CBS affiliate WJAX reports that deputies found Gilt with a bullet wound inside her truck with a horse trailer on the back stopped in travel lanes on a highway. She was on her way to pick up a horse, according to deputies.
The law may charge Gilt with reckless endangerment (likely a misdemeanor with a heavy fine) and improper use of a firearm (a mild felony).
Deputies say a .45-caliber handgun was on the truck's floor.
Gilt was taken to a Gainesville hospital, where she was in stable condition later Tuesday.
Authorities are investigating.
A Facebook page, that has since been taking down, adorned with the image of the Putnam County mother holding a gun drew worldwide attention Wednesday, WJAX reports.
The page, titled "Jamie Gilt for Gun Sense," received numerous comments from around the world after the woman's story of getting shot by her son spread. The Facebook page has now also been filled with many comments about gun control and gun laws.