Dirty politician faces an onslaught of criticism from Pres. Obama, the public and fellow Republicans who fear they may lose in competitive senate races.
Two weeks in and no budging on the Merrick Garland nomination for the Supreme Court.
Republican leader Mitch McConnell (R-KY) said in the junk food media that the nomination will be for the next president. It's pretty much pissed off the president and the Democrats. President Barack Obama in final year still at work. He may be a lame duck, but he's not sulking about being called that.
His job approval right now sits in the mid 50s.
Obama is still constitutionally entitled to have a nominee confirmed to the Court.
The Democrats are saying that Republicans are inept and they can't govern. They fear the conservative outrage brewing if they give in to the public's demand to nominate a justice to the high court.
The court's swing is somewhat conservative. Now that Antonin Scalia passed away, Republicans feared that Obama's pick for the Supreme Court could swing the court into a progressive direction.
Conservatives are outraged over Sen. Jerry Moran (R-KS) complaining about the senate not holding hearings on Garland.
The Garden City Telegram reported that Moran told a small group gathered in a Cimarron, Kan., courthouse on Monday that GOP senators "should interview Garland and have a hearing on his nomination," in the paper's words.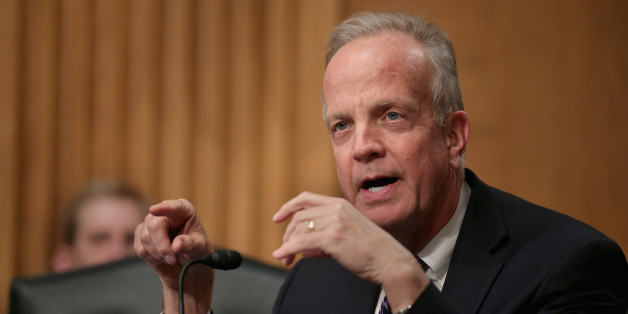 Sen. Jerry Moran (R-KS) warns Republicans that the plan to stop Obama's court pick will backfire.
"I can't imagine the president has or will nominate somebody that meets my criteria, but I have my job to do," Moran said, according to the report. "I think the process ought to go forward."
Another Kansas paper, the Dodge City Daily Globe, reported that Moran was even more explicit in comments to a Rotary Club there: "I think we have the responsibility to have a hearing, to have the conversation and to make a determination on the merit," he said.
He says that he rather vote against Garland than hold his nomination up. He understands that if a Republican wins the presidency, the Democrats will block nominees for the Court.
The partisan gridlock affecting Washington, DC is pathetic. I mean Mitch McConnell and House Speaker Paul Ryan (R-WI) are worthless politicians and leaders.
The Republicans also trying to cock block a recess appointment to the Court. The president could impose a recess nomination if the Republicans hold firm on their threat.
Here's a poll for you
Should the U.S. Senate confirm Merrick Garland for the Supreme Court?
I really hope that the Senate come to its senses and confirm Obama's nominee.