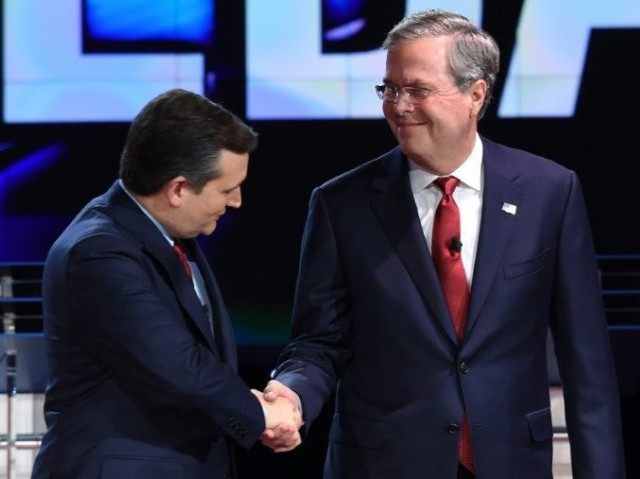 Ted Cruz getting backing from failed presidential candidate Jeb Bush.
The gift and the curse.
Right now, the junk food media is pounding on Ted Cruz. His controversial rhetoric in the wake of the tragedy in Brussel, Belgium has the nation talking. The so-called constitutional conservative wants to law enforcement to do profiling of Muslims living in the United States. So he's willing to take away religious freedom and the right to speech because of an event in another country.
Cruz blasted President Barack Obama for not saying "radical Islam" and attending a diplomatic baseball game with the former nemesis of Cuba. The Texas senator is struggling to win support from the mainstream Republicans. The establishment is slowly wrapping its tentacles around Cruz, the so-called outsider of Washington, DC.
Failed presidential candidates Lindsey Graham and Jeb Bush thrown their support to Cruz. They figure that Cruz could stop the momentum Donald Trump's gotten.
Bush released a presser.
"Today, I am endorsing Ted Cruz for President. Ted is a consistent, principled conservative who has demonstrated the ability to appeal to voters and win primary contests. Washington is broken, and the only way Republicans can hope to win back the White House and put our nation on a better path is to support a nominee who can articulate how conservative policies will help people rise up and reach their full potential.
For the sake of our party and country, we must move to overcome the divisiveness and vulgarity Donald Trump has brought into the political arena, or we will certainly lose our chance to defeat the Democratic nominee and reverse President Obama's failed policies. To win, Republicans need to make this election about proposing solutions to the many challenges we face, and I believe that we should vote for Ted as he will do just that."
Trump is forward marching toward the nomination and Republicans fear that he could destroy the party. Cruz's endorsement from Graham and Bush could be a noose around his neck. The insurgency might turn against him for these endorsements.
Many conservatives believe that Bush's endorsement of Cruz is a farce. They seriously believe that he's trying to murky the waters for a contested convention. Cause they really don't like Cruz. They really, really don't like Trump.
But do you seriously believe Cruz is probably the only viable candidate left capable of taking on Trump?