The king of hip-hop.
Congratulations to Kendrick Lamar on snatching five Grammy's. Also he took home the best rap album at the 58th Grammy Awards.
To Pimp a Butterfly is the best rap album. No question.
It received a nomination for Album of the Year and won Best Rap Album at the 58th Grammy Awards. Its singles "i" and "Alright" both won Best Rap Song and Best Rap Performance.
The song "Alright" earned nominations for Song of the Year, Best Rap Performance and Best Rap Song, its visuals for Best Music Video and "These Walls" received a nomination for Best Rap/Sung Collaboration.
To Pimp a Butterfly was certified Platinum by the Recording Industry Association of America (RIAA).
By January 2016, the album had sold 788,000 copies in the United States.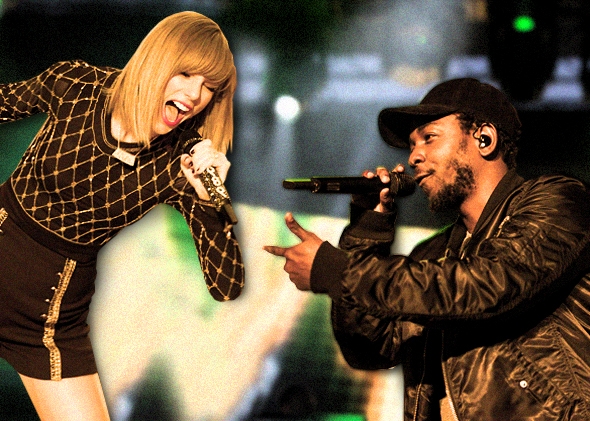 Performing Bad Blood from 1989 album.
Congratulations to Taylor Swift for winning the night as well. And also managing to fry the ego maniacal rapper/rap producer/celebrity agitator Kanye West.
She scored a huge win for her album 1989.
Taylor Swift won the Best Album of the Year award and she clapped back at Kanye West after he went into his diva mode. West made the remarks that he created Taylor's career. He promoted that line in his Life of Pablo album. The album was released last week. The two are back feuding again.
— Mashable News (@MashableNews) February 16, 2016
I managed to catch the last few minutes of the Grammy Awards. I normally hate watching award shows because I believe these things are boring.
Also Meghan Trainor, The Weeknd, Mark Ronson, Bruno Mars, D'Angelo and many others took home a Grammy. Also former president Jimmy Carter took home a Grammy as well.
Congratulations to them all for their hard work.
World News Today also send our condolences to the family of DJ Big Kap. The rap pioneer passed away on February 3rd, 2016. I just found out about his death.