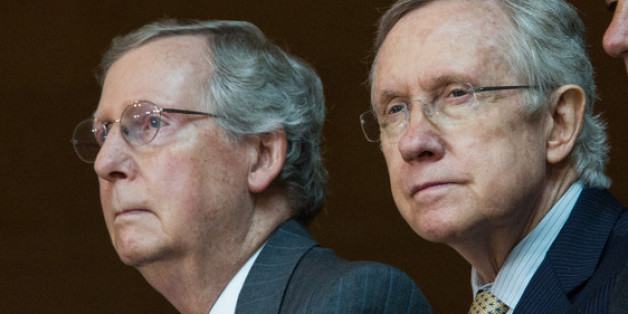 Sen. Mitch McConnell (R-KY) will likely continue to be the Majority Leader of the Senate. Sen. Harry Reid (D-NV) will retire as the Minority Leader putting his seat in a competitive race.
Again, I don't care for the Republicans and Democrats. They both suck. They both are out for their own. They don't understand the plight of the American people. They are invested in the special interest groups and elites that continue to pour money into their races. They will play partisan games and continue grandstanding for the sake of their federal perks.
Here's my outlook for the U.S. Senate elections. The Republicans have 54 members currently serving. They have to lose 5 seats to fall back into the minority. Some of the seats are in states that President Barack Obama carried in the 2012 election.
With the pending fight in the nomination of a Supreme Court justice, most Republicans stand firm in opposing a choice to replace Antonin Scalia. Some of the Republicans are polling somewhat well to somewhat bad in their respective states. They know the risk of being inept in their home states.
Republicans will have to protect Ohio, Florida, Wisconsin, Illinois and New Hampshire. These seats are considered TOSS UP. These seats are competitive but it could also put risk on usually safe seats such as Arizona, Indiana, Pennsylvania and North Carolina. This would be a challenge for Republicans.
With the job approval of Congress at record lows, it's not easy for Republicans to bring up the failures of Obama when they're the ones also in power. But don't think it's an easy road for the Democrats. It's going to be a tough fight for Democrats to win back the trust of the American people.
Democrats have to fight for seats in states like Nevada, Colorado and Maryland. I conclude these states as TOSS UP. It's likely going to be a hard road for the Dems to recapture the Senate.
Depending on who becomes the nominee, I have pegged the candidates and how I believe that Republicans will continue to hold on to the majority of the senate. The odds are 52 - 48.
Alaska - Lisa Murkowski (RUNNING) (SAFE)
Hawaii - Brian Schantz (RUNNING) (SAFE)
Washington - Patty Murray (RUNNING) (SAFE)
Oregon - Ron Wyden (RUNNING) (LIKELY DEMOCRAT)
California - Barbara Boxer (RETIRING) (LIKELY DEMOCRAT)
Colorado - Michael Bennet (RUNNING) (TOSS UP) (ODDS: REPUBLICAN)
Idaho - Mike Crapo (RUNNING) (SAFE)
Nevada - Harry Reid (RETIRING) (TOSS UP) (ODDS: REPUBLICAN)
Utah - Mike Lee (RUNNING) (SAFE)
Arizona - John McCain (RUNNING) (LEANS REPUBLICAN)
North Dakota - Jim Hoeven (RUNNING) (LIKELY REPUBLICAN)
South Dakota - John Thune (RUNNING) (SAFE)
Kansas - Jerry Moran (RUNNING) (SAFE)
Oklahoma - James Lankford (RUNNING) (SAFE)
Iowa - Chuck Grassley (RUNNING) (LIKELY REPUBLICAN)
Missouri - Roy Blunt (RUNNING) (LIKELY REPUBLICAN)
Arkansas - John Boozman (RUNNING) (SAFE)
Louisiana - David Vitter (RETIRING) (LEANS REPUBLICAN)
Wisconsin - Ron Johnson (RUNNING) (TOSS UP) (ODDS: DEMOCRAT)
Illinois - Mark Kirk (RUNNING) (TOSS UP) (ODDS: DEMOCRAT)
Indiana - Dan Coates (RETIRING) (LIKELY REPUBLICAN)
Kentucky - Rand Paul (RUNNING) (LIKELY REPUBLICAN)
Ohio - Rob Portman (RUNNING) (TOSS UP) (ODDS: PORTMAN)
Alabama - Richard Shelby (RUNNING) (SAFE)
Georgia - Johnny Isakson (RUNNING) (SAFE)
Florida - Marco Rubio (RETIRING) (TOSS UP) (ODDS: REPUBLICAN)
North Carolina - Richard Burr (RUNNING) (LEANS REPUBLICAN)
South Carolina - Tim Scott (RUNNING) (SAFE)
New Hampshire - Kelly Ayotte (RUNNING) (TOSS UP) (ODDS: AYOTTE)
Vermont - Patrick Leahy (RUNNING) (SAFE)
New York - Chuck Schumer (RUNNING) (SAFE)
Pennsylvania - Pat Toomey (RUNNING) (LEANS REPUBLICAN)
Connecticut - Richard Blumenthal (RUNNING) (SAFE)
Maryland - Barbara Mikulski (RETIRING) (TOSS UP) (ODDS: DEMOCRAT)