Married woman posted on social media that she was single. She was trying to bait singles into supporting Democratic presidential candidate Bernie Sanders. Although she didn't steal information from the singles, her actions are examples of what the FBI warns about online dating.
I've said it time after time, love is complicated. It's hard for some to find the right one. I've took to posting a long rant
about dating
and
social media
. I've dated some of the worst of the worst on social media dating websites.
I won't mention their names. I wish them well.
Well once again, it's Valentine's Day and a lot of single Americans are hoping to find the right one.
Some are finding it harder to settle down.
I am almost certain to give up on relationships. I am so tired of wasting my time dating women who take advantage of me. I am the dreaded "NICE GUY" who will end up always in the "FRIEND ZONE".
I am not looking for the "FRIEND ZONE" and I am not looking for the "HIT IT AND QUIT IT".
But I am certainly willing to place my bets on millions of singles rushing into relationships. The social media websites that attract singles, OKCupid, eHarmony, POF, Badoo, Tinder, Coffee Meets Bagel, Match.com, MeetMe and Christian Mingle see a spike around the week of Valentine's Day.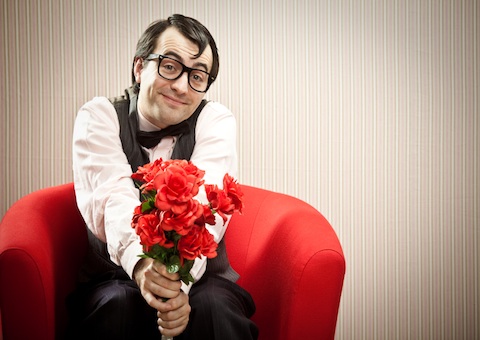 The nice guy is always assured heartbreak.
Of course, scammers are seeking the opportunity as well.
Did you know that two Bernie Sanders supporters created profiles to lure men into supporting the Democratic candidate's campaign?
Two women were banned from Tinder because they were swiping right on guys who were interested in them. When conversation began, the first thing came up was Bernie Sanders. The Sanders campaign denounced the women and told supporters to not deceive people.
Haley Lent and Robyn Gedrich were banned from the social media website after they played games.
This woman who posed as a single tried to bait singles into supporting presidential candidates.
They were participating in a "political spamming" scam. They intentionally were trying to fool men into relationships only to encourage them to support Sanders.
Of course, they didn't follow the rules of the website and they have since apologized for their behavior (of course the death threats also came too).
These two were examples of what the FBI warns about online dating. The FBI released a bulletin about the dangers of online dating.
Tinder "match" looks like a model.
These criminals—who also troll social media sites and chat rooms in search of romantic victims—usually claim to be Americans traveling or working abroad. In reality, they often live overseas. Their most common targets are women over 40 who are divorced, widowed, and/or disabled, but every age group and demographic is at risk.
Here's how the scam usually works. You're contacted online by someone who appears interested in you. He or she may have a profile you can read or a picture that is e-mailed to you. For weeks, even months, you may chat back and forth with one another, forming a connection. You may even be sent flowers or other gifts. But ultimately, it's going to happen—your new-found "friend" is going to ask you for money.
So you send money...but rest assured the requests won't stop there. There will be more hardships that only you can help alleviate with your financial gifts. He may also send you checks to cash since he's out of the country and can't cash them himself, or he may ask you to forward him a package.
So what really happened? You were targeted by criminals, probably based on personal information you uploaded on dating or social media sites. The pictures you were sent were most likely phony lifted from other websites. The profiles were fake as well, carefully crafted to match your interests.
Tinder "match" wants you to Kik it with them.
In addition to losing your money to someone who had no intention of ever visiting you, you may also have unknowingly taken part in a money laundering scheme by cashing phony checks and sending the money overseas and by shipping stolen merchandise (the forwarded package).
In another recently reported dating extortion scam, victims usually met someone on an online dating site and then were asked to move the conversation to a particular social networking site, where the talk often turned intimate. Victims were later sent a link to a website where those conversations were posted, along with photos, their phone numbers, and claims that they were "cheaters." In order to have that information removed, victims were told they could make a $99 payment—but there is no indication that the other side of the bargain was upheld.
While the FBI and other federal partners work some of these cases—in particular those with a large number of victims or large dollar losses and/or those involving organized criminal groups—many are investigated by local and state authorities.
We strongly recommend, however, that if you think you've been victimized by a dating scam or any other online scam, file a complaint with our Internet Crime Complaint Center (
www.ic3.gov
).
Before forwarding the complaints to the appropriate agencies, IC3 collates and analyzes the data—looking for common threads that could link complaints together and help identify the culprits. This helps keep everyone safe.
Here are some tips on how to avoid becoming a victim of an online dating scam.
Recognizing an Online Dating Scam Artist
Your online "date" may only be interested in your money if he or she:
Presses you to leave the dating website you met through and to communicate using personal e-mail or instant messaging;
Professes instant feelings of love;
Sends you a photograph of himself or herself that looks like something from a glamour magazine;
Claims to be from the U.S. and is traveling or working overseas;
Makes plans to visit you but is then unable to do so because of a tragic event; or
Asks for money for a variety of reasons (travel, medical emergencies, hotel bills, hospitals bills for child or other relative, visas or other official documents, losses from a financial setback or crime victimization).
One way to steer clear of these criminals all together is to stick to online dating websites with nationally known reputations.
Be safe and have great Valentine's Day!