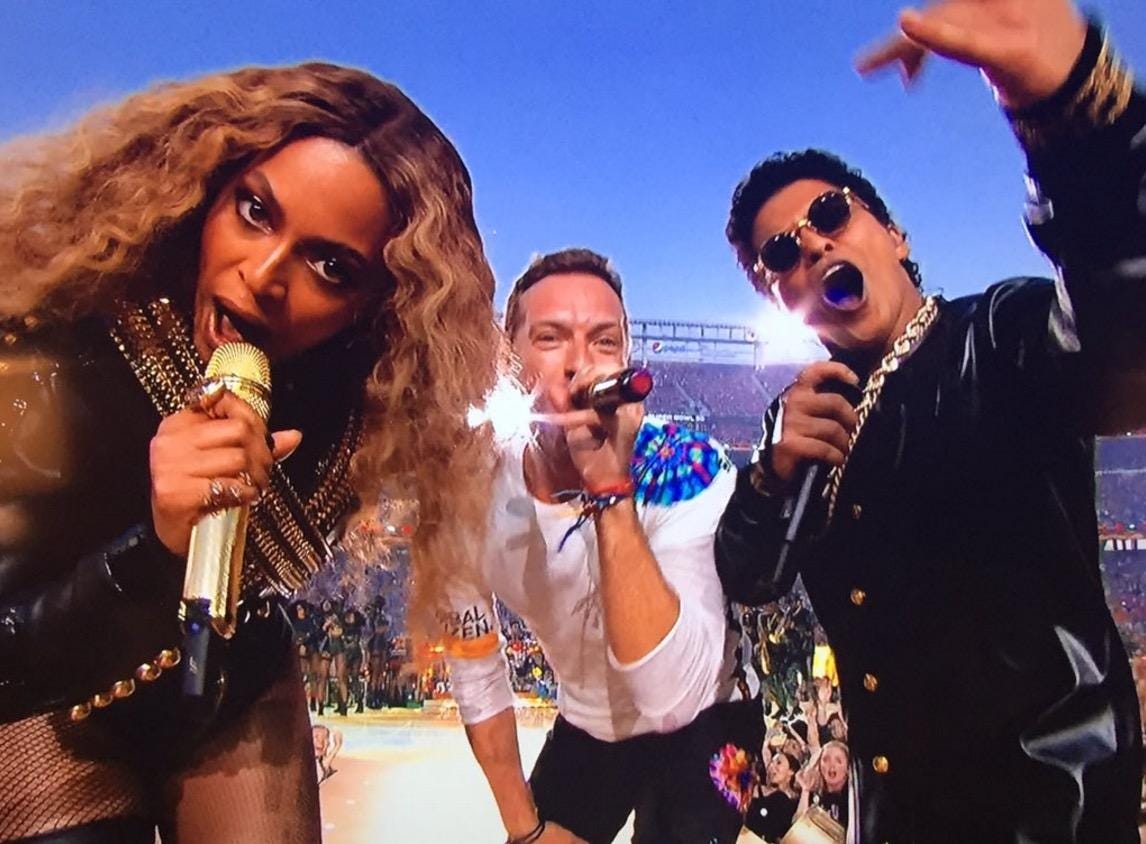 The conservatives are outraged over Beyonce's performance with Bruno Mars and Coldplay.
Congratulations to the Denver Broncos on winning Superbowl L. This would be Peyton Manning's second victory with two NFL teams.The Broncos managed to keep favorite Carolina Panthers stalled throughout the game. The Broncos won 23 -10.
At 39 years old, Peyton comes off the victor against Carolina Panthers MVP Cam Newton. Cam was totally pissed that his team lost and I don't blame him.
The game was watched on CBS. It was watched by over 112 million.
Pepsi and the NFL hosted Coldplay, Bruno Mars and Beyonce for the Halftime show acts.
The final performance from Beyonce managed to attract the most attention. Her song Formation was much talked about over the weekend. Did the song have a message that pissed off conservatives?
Conservative outrage over the performance. The political statement she made showed support for #BlackLivesMatter and the Black Panthers.
Conservatives are saying that the music video is anti-cop. The Halftime performance was racist.
Where does President Barack Obama fit in?
I can picture the concern trolls saying, "Oh, Barack Obama had invited her and her crack dealer husband Jay-Z to the White House. They were plotting this music video to make note that White people are racist."
So I'm guessing that annoying conservative agitator Sean Hannity, that old fart Limbaugh and many other agitators in the conservative media will bitch about it.
The concern trolls are saying that Queen Bey was being anti-cop. The music video released also had mentions of Hurricane Katrina, the controversial shootings of police officers and the usage of NEGRO.
Queen of Everything.
The music video of the tune pays homage to, among other things, those killed in New Orleans in the wake of Hurricane Katrina. Many are calling the song and her performance a black power anthem in part because the video features a spray painted wall reading "stop shooting us" in reference to the numerous cases of police brutality on people of color.
The performance, Sunday featured a chorus of African American dancers with berets that were reminiscent of the Black Panther Party which was founded 50 years prior in Oakland, just over the Bay from the Super Bowl. Before the performance, some of the dancers took a photo with fists raised, holding a sign that read "Justice for Mario Woods." Woods was a young black man with a knife who was surrounded by police and shot.
Tidal, the music streaming service owned by owned by Beyonce's husband Jay-Z announced last week that they would be donating $1.5 million to the Black Lives Matter movement among other groups that fight for civil rights.