Republican are feuding with one another over a potential Donald Trump or Ted Cruz nomination.
While the bromance is over between the two, many Republicans are fearing that the rhetoric by the two Republican front runners could spell disaster for the party.
The Republican Party is tearing itself into pieces because of the insurgents. Sen. Ted Cruz (R-TX) and Donald Trump are leading in the national polls. But some insiders are saying that these two are proven to be embarrassments to the Republican establishment.
Sen. Lindsey Graham (R-SC) who dropped out the race to endorse Jeb Bush went to the junk food media to declare that Trump and Cruz could destroy the party "A choice between the two is like being shot or poisoned".
The National Review fired first shots at Trump. They released a hard hitting commentary slamming the notion of Trump being a "true conservative". It had commentary from many prominent conservative writers, Republican strategists and average voters.
The Des Moines Register came out and endorsed Sen. Marco Rubio (R-FL) against Trump and Cruz.
Sarah Palin's endorsement of Trump also sparked a feud between her longtime friend and fellow agitator Glenn Beck.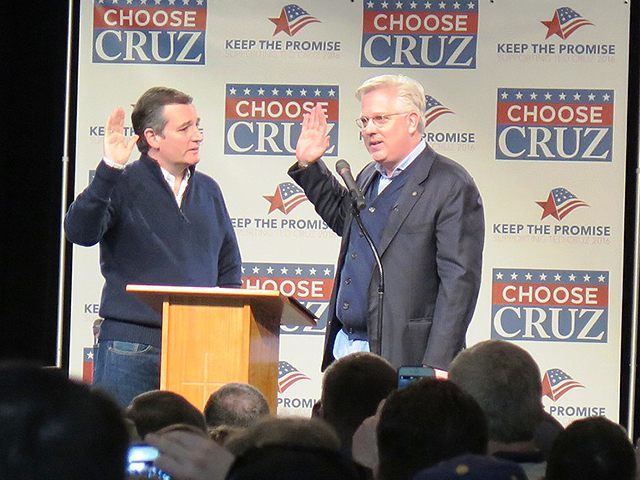 Glenn Beck endorses Cruz.
Beck, a media mogul who controls TheBlaze Network is so freaking tired of Trump. He openly condemned the notion of Trump being the nominee. Beck once gave Trump strong praise until he went after Cruz. Beck openly endorsed a feud with Trump.
Trump basically called Beck a "wacko" has been who now does internet shows instead of real ones.
Now that right wing network will host the next Republican debate before the Iowa caucus and it's already causing controversy.
Megyn "The Outrage Princess" Kelly along with "Smirking Chimp" Chris Wallace and "Unibrow" Bret Beier will moderate the debate again. Trump already said that Megyn's got to go!
The Republican Party is so fucked up right now.