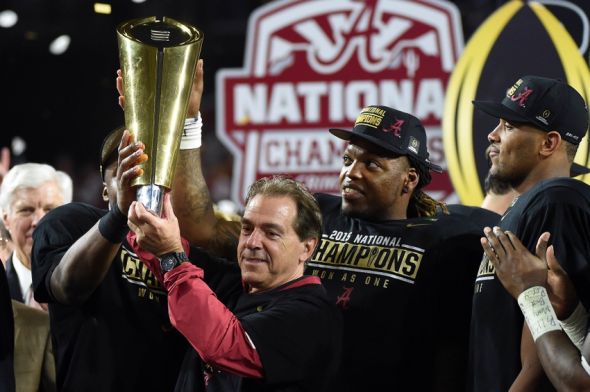 The win.
Congratulations to the University of Alabama Crimson Tide football team on a great victory against the Clemson University Tigers. The team finished the season with a record of 14 wins and 1 loss (14–1 overall, 7–1 in the SEC), as SEC champions and as consensus national champions after they defeated Clemson in the College Football Playoff (CFP) National Championship Game.
In a rallying finish, Alabama managed to beat Clemson on the score of 45-40.
Clemson was ranked #1 after Ohio State took a tumble in the College Football Playoffs.
Alabama tumbled to #12 after a bruising defeat from Ole Miss Rebels. They rallied hard to gain the top tier spot.
When #3 Ohio State fell to #8 Michigan State, it surged Alabama to the #2 spot.
Alabama would crush Michigan State in playoffs.
Many sports analysis had Alabama lock it up but it was going to be a tough fight. The Clemson Tigers gave the Tide a fight.
Big victory for the Tide.
Clemson ends up taking a nosedive throughout the fourth quarter. They managed to catch up in the end but it wasn't enough and Alabama ran a train on them.
Congratulations to Nick Saban and Heinsman Torphy winner Derrick Henry. Also want to say congratulations to the entire team on a great victory for the 2015-16 College Football Championship.
Tuscaloosa, Alabama will have a celebration for the country's number one team. President Barack Obama will host another event for the Tide in the Summer.
Congratulations.
Now onto the bad news. The city of St. Louis lose the Rams.
The NFL approved for the relocation to Los Angeles. Los Angeles is the second largest city in the nation hasn't had a football team in 20 years.
Now the city of St. Louis is steaming mad over the decision.
This will be discussed in the next article.
Now if there's riots in the city of Tuscaloosa or St. Louis, will the junk food media label the rioters a bunch of thugs or looters?