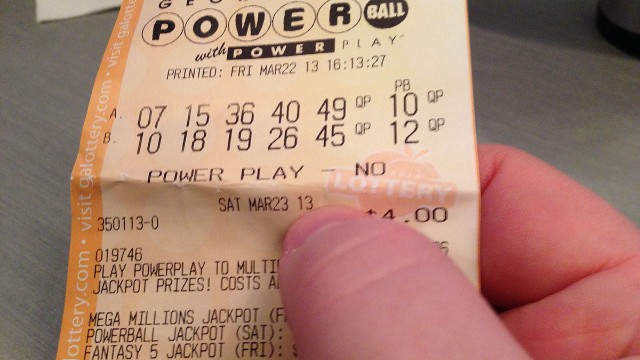 Saturday's Powerball jackpot is the largest in U.S. history.
I am so going to spend a couple of bucks on Powerball. The Multi-State Lottery Association announced the largest jackpot in the United States history is being held on Saturday.
The jackpot as of 1/7/2016 is $700 million. It will likely be $1 billion by draw time. So I can't give you an actual jackpot amount.
You chances of winning this jackpot is 1:292 million.
If I would win a record jackpot like this.............I don't know!
I would keep a cool head. I would not panic. I would write my name on the ticket and make sure that I have everything taken care of before I present my ticket to the regional lottery commission office.
This type of jackpot is by far the country's largest in history. Based on lottery sales, the Powerball jackpot will surge up. So don't be surprised that the 44 participating states, the District of Columbia, Puerto Rico and U.S. Virgin Islands will see a huge spike in sales.
I work in retail. Trust me, I will have a huge headache dealing with lottery players.
Okay,
click on my previous post
on the advice I have for you. Use the information at your discretion.
Good luck to those who play the Powerball and Mega Millions.
You must be 18 years old (or 21 in some states) to play any lottery games.
Powerball drawings are held on Wednesdays and Saturdays. The closing bets are at 10pm on the night of the drawing. All drawings for the Powerball are held at 10:59pm.
Mega Millions drawings are held on Tuesdays and Fridays. The closing bets are at 10:45pm on the night of the drawing. All drawings for Mega Millions are held at 10:59pm.
The minimum Powerball jackpot starts at $40 million. The minimum Mega Millions jackpot starts at $15 million.
The Powerball tickets use the 5/69 and 1/26 matrix. Each ticket cost $2.00. You must pick 5 numbers from 1 to 69 and the Powerball from 1 to 26. These numbers can be written down or automatically picked. Make sure you play your numbers correctly.
You cannot cancel any Multi-State Lottery Association games.
Most lottery professionals say that automatic picks are often the most likely tickets that contain winning jackpots.
Given the Powerplay option for a $1 you can multiply your jackpot. In California, the Powerplay option is not given.