Chicago PD bucks a teen and a mother of five.
The calls for a cannon fire grow for embattled Democratic mayor Rahm Emmanuel. The mayor is facing heavy scrutiny over his handling of the Laquan McDoanld controversy.
Now this recent event may have the #BlackLivesMatter activists back out protesting the law's killing of unarmed citizens.
A Chicago cop is in the freezer after he shoots and kill a teen and his grandmother.
The Huffington Post and AP report that Quintonio Legrier, 19 was acting erratically at his home in the neighborhood of Garfield Heights. The teen was acting pretty damn crazy. He was swinging a metal bat around.
The law arrives on the scene. The family said that the cop failed to calm him down. So as the teen swings the bat, the cop puts seven in him. He immediately drops.
Somehow the cop's slugs ricocheted into the neighbor's home. It went into the neck of a woman who lived next door. The mother Bettie Jones, 56 opened to the door after she heard massive shots. She dropped after the slug got her in the neck.
Now the Illinois State patrol and Chicago police are investigating the incident.
The U.S. Justice Department is investigating the Chicago Police for potential violations. The possibility of brutal force is often called into question.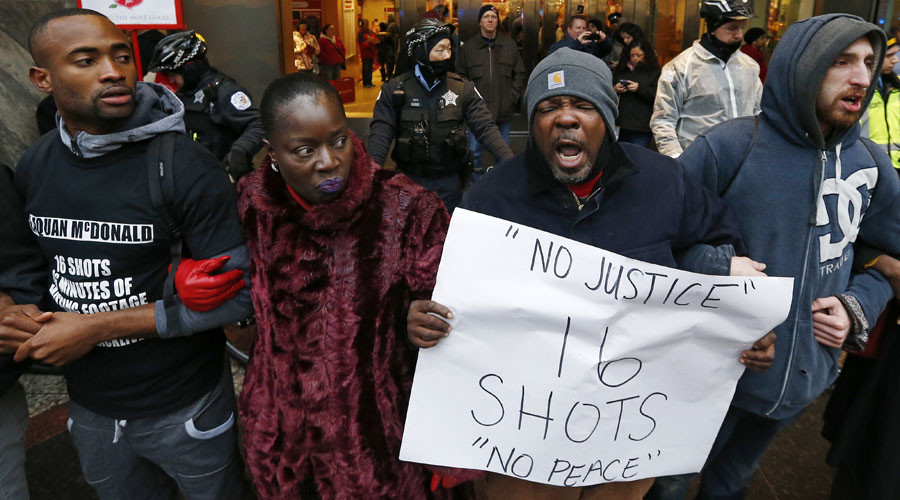 Protests continue.
The cop didn't have a body camera or a Taser on. The name of the officer isn't released yet.
#BlackLivesMatter has went all out this holiday weekend. They've done disruption and peaceful protests on the Miracle Mile. The Michigan Avenue entertainment district has been often a site for protesters.
In Minneapolis and Los Angeles, protesters have called into question of deadly police encounters of two recent events. The death of Jamar Clark and Nicholas Robertson became national stories.
The events were sparked by allegations of the law bucking a suspect on the run. Kind of like the shooting of Walter Scott....
World News Today sends our condolences to the family of the Bettie Jones and Quintonio Legrier.