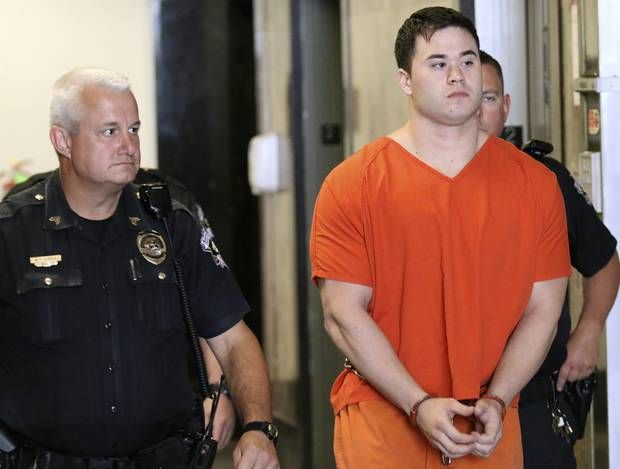 Ex-OKC officer Daniel Holtzclaw found guilty of rape.
The former Oklahoma City Police officer who ran a pimp game was served. He was found guilty for first-degree rape. An all White jury listened to the testimony of victims who were raped by this crooked piece of shit.
He got fired out the cannon after his superiors seen evidence of misconduct. This misconduct may hurt the relations with the Black community.
The victims were Black women who were on the stroll. The jury saw that Daniel Holtzclaw was guilty of rape and forcible oral sodomy on Thursday.
Holtzclaw faced a total of 36 charges. He got teary eyed when the jury ruled his fate.
This controversy touched the nerve of the community. It dealt with race, policing, and the blue wall of silence.
This situation wasn't getting much attention in the junk food media.
Holtzclaw played the "I'll look the other way" when it came to the criminal activity around Oklahoma City. He had a beat on the stroll. The stroll was Robinson Avenue in Oklahoma City. The stroll is notorious for ladies of the stroll to make $$$$$$$. It's a notorious area for human trafficking and pimping. The ladies were either low level drug offenders and some the ladies may have been HIV-positive. Some ladies would "honey trap" tricks into an area where the pimp or gang members would rob or brutalize the trick.
Prosecutors alleged that Holtzclaw would try to use his badge and charm to con ladies into sexual acts. Some of the women were violators of the road. He would look the other way if they would let him get a feel or a top off.
He told a victim that he get them off their drug charges if they promise to just look the other way and disappear for awhile.
Brian Bates, the Video Vigilante of Oklahoma City. He and his cameramen go through the streets of Oklahoma City to shame men who pick up prostitutes.
When Holtzclaw got off work, he would tell the victims to meet him at a location of his choosing and he would take them home and forcibly rape them.
The junk food media gave Holtzclaw a glaring spotlight before his downfall. He grew up Enid, Oklahoma. He was a star middle linebacker for Eastern Michigan University's football team. He graduated with a degree in criminal justice. He has family involved in law enforcement.
Holtzclaw is born half White and half Japanese. He was accused of raping 13 women, all Black, while he was on duty. Courts says that he identifies himself as "Asian".
Question: Would they give a Black criminal a glaring spotlight?
Well all that shit isn't relevant. What's relevant is the fact that this dangerous man is off the streets.
What's relevant is that this man is charged with rape, sodomy, stalking, sexual battery, robbery, burglary, indecent exposure, forcible oral sodomy, and misconduct as an officer.
The Video Vigilante films two ladies of the stroll. The one who wearing the boots is a notorious geeker named "Sweets". She is a "honey trap" who sets up her tricks.
RAPE IN OKLAHOMA COULD CARRY LIFE IN THE IRON COLLEGE. HE WAS FOUND GUILTY OF THE RAPE CHARGES. NOW THE SAME JURY OR ANOTHER JURY IS RESPONSIBLE FOR HANDING HIS SENTENCE.
I am guessing this sorry excuse for a human being is on "suicide watch" and will appeal his conviction.
Brian Bates, the Oklahoma City Video Vigilante dealt with this stuff for years. On his YouTube page and his website JohnTV.com, he takes the opportunity to shame tricks who use his city as a sexual playground.
Brian may have had a part in bringing down Holtzclaw. I am guessing he's aware of those lawmen who engage with the ladies of the stroll.