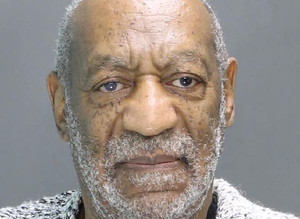 The Cos mugshot heading to TMZ and The Smoking Gun.
The entertainer appeared in court today with cameras in tow. The 78-year old Bill Cosby was walking with a cane. He almost tripped trying to enter the Montgomery County, Pennsylvania court to be arraigned on sexual assault charges.
He posted a $1 million get out of jail free card. He also relinquished his passport.
Cosby faces a some serious charges. This has to be the biggest celebrity scandal of 2015. To see America's Dad take this nosedive is shocking. But I'm not too surprised.
He was a powerful voice in the entertainment industry. He created the hit series The Cosby Show. He inspired children with Fat Albert and The Cosby Kids. He entertained us with his comedy acts.
Now all of that comes to a bitter end.
The conservative Craigslist once lauded Cosby's in your face reactions towards Black America. See what happens now when the conservative agitator splashes the New York Daily News hard hitting front cover.
The victim Andrea Constand decided to publicly come forth acknowledging she was a victim of a 2004 assault. The incident happened when the Temple basketball coach went to his home outside of Philadelphia.
She claimed that he gave her some alcohol with a "herbal additive". She would pass out.
No sense of knowing what's going on, she realized that Cosby was fingering her privates and groping her. She was in a paralyzed state. The two settled out of court with a disclosed amount. But the charges never went forth until now.
Andrea was one of the first women to publicly accuse the comedian of sexual misconduct. At the time, the Montgomery County district attorney declined to pursue charges. Constand later sued Cosby and they settled out of court for undisclosed terms in 2006.
Cosby is innocent until proven guilty. These charges are felonies. They can carry 2 to 15 years in the iron college. The severity of the offense could land a TIER III label on the entertainer.