Insurgent Ted Cruz fires at the Washington Post when they took aim at his daughters. Cruz is with his wife Heidi and daughters Catherine (left) and Caroline (right).
Now I am not a fan of Sen. Ted Cruz (R-TX) and his bombastic campaign for president. The insurgent lawmaker has relatively no accomplishments since his introduction to the senate in 2013.
He's been nothing more than a gadfly to the Republicans. The conservatives love his "in your face" approach when it comes to taking on Washington.
But his "in your face" approach has made it harder for Republicans to support him. They believe that Cruz and Donald Trump could spell disaster.
But given the atmosphere in the junk food media, it's not an easy road for a perennial running Hillary Clinton. So far she's leading against most candidates. Clinton is still having slow support from many of the progressives. Many progressives view Clinton more negatively after the fiasco with Bernie Sanders and previously then Barack Obama.
When campaigning for the nomination, the candidates swore they'll never attack the children of a candidate. But for the junk food media, nothing is off limits.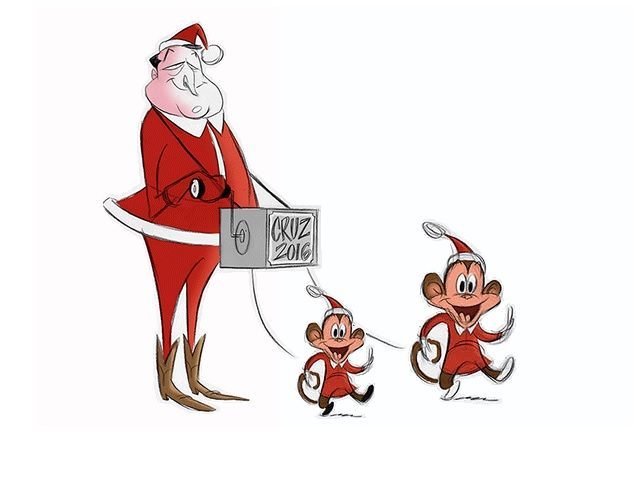 Pathetic.
The Washington Post had to do damage control when they released a political cartoon featuring Cruz with two little monkeys. I guess the monkeys were Catherine and Caroline. Those are the senator's two young daughters.
Cue the outrage.
For one thing Cruz is Hispanic. Depicting him and his daughters as monkeys is pretty damn racist!
The person who drew the comic will probably be placed in the freezer or fired out the cannon once the heat increases. But it's become a rally cry for Cruz to raise campaign cash.
Cruz raised a $1 million from it.
Cruz called it a "tasteless attack". He said that you can say whatever the fuck about him. But you best not talk about his kids!
"My daughters are not FAIR GAME," he wrote on social media and in his fundraising emailer. "I'm sickened....I knew I'd be facing attacks from day one of my campaign, but I never expected anything like this."
Fool, please. You know that being the President of the United States is going to be a job for the patient. Barack Obama faced an onslaught of attacks from the people like you.
When has there been ever a time the junk food media been easy of the families of a political candidate?
His wife was brutally criticized by those agitators in the conservative media for being "an angry Black woman". They don't see her as an accomplished mother, wife, business executive and volunteer.
Think about last month when The Daily Caller obtained a Snapchat photo of Malia Obama attending Brown University and she's viewing a game of beer pong. Or the Republican staffer who took to social media to attack the appearance of Malia and Sasha Obama during the 2014 pardoning of the turkeys.
And who can't forget the conservative Craigslist reporting that the junk food media scrubbing a story about Malia and a few her friends heading out of country. The story being leaked caused the Secret Service to end Malia's vacation early.
Ted, you better get used to it. The junk food media has no shame in what it does.
Matter of fact, the freedom of speech assures this type of trash to be published.
Critics probably splashed this nonsense on their screen savers.