Mass shooting in Colorado Springs targeted Planned Parenthood.
The Republicans were pretty confident that they could take on the women's health provider. Because of the undercover videos that were released showing Planned Parenthood workers explaining fetal tissue, Republicans have vowed to defund the organization.
Insurgents like Donald Trump, Ted Cruz, Marco Rubio, Ben Carson and Carly Fiorina have vowed defund Planned Parenthood.
It was getting major play on that right wing network. The AM agitators have brought it up.
It also inspired terrorists to create havoc among the providers and patients. There were over 10 incidents where terrorists have sought havoc on Planned Parenthood. This one happens to attract the junk food media's attention.
A terrorist who opened fire on lawmen and innocent civilians at a Planned Parenthood yesterday. The residents of Colorado Springs, Colorado once again experienced another major shooting in their community. The last shooting was a 31-year old terrorist who opened fire on civilians. He managed to kill four before the law killed him.
The city of Colorado Springs is one of the safest cities in the United States. These latest incidents of mass shootings in the city have the nation once again griping with the debate over firearms and the threat of terrorism (i.e. right wing extremism).
The president and Colorado's Democratic governor John Hickenlooper were notified.
World News Today send our condolences to those lost in this senseless tragedy.
CNN reports that three people were shot dead Friday, including university police Officer Garrett Swasey, whose body was escorted out early Saturday morning by his fellow officers. Five officers and four civilians are hospitalized in good condition, according to city police Lt. Catherine Buckley, after the assault.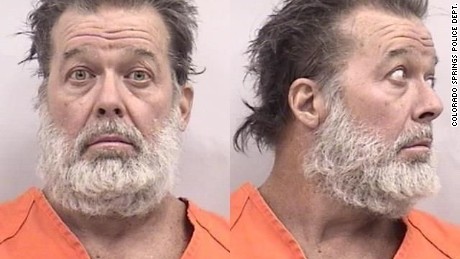 This terrorist currently held in lock up on capital murder of a lawman and civilians.
And then there's the challenge of making sense of all this bloodshed: Why, on the day after Thanksgiving, would a man walk up to a clinic with his guns out and then hold out for hours before finally surrendering?
Planned Parenthood, which delivers reproductive health care and sex education to women and men across the United States, has come under attack before. But the group said Friday night that it didn't know anything about this facility being "targeted deliberately."
"The heart of Planned Parenthood of the Rocky Mountains is broken ... as we try to make sense of the horrific tragedy," the provider's regional division tweeted.
Ketanya Craion was a hostage. She said that see the terrorist shooting at the law.
And authorities have not outlined a motive in Friday's incident that had those in the clinic huddling in horror and others hunkering down in fear in nearby stores and offices.
They have, however, identified the man they say is responsible: 57-year-old Robert Lewis Dear.
This terrorist was being held without bail Saturday in a Colorado Springs jail, according to the El Paso County Sheriff's Office website. He is scheduled to appear in court on Monday.
Ketanya Craion was in an exam room when the shooting began Friday morning. Three people were killed and nine others were injured before police arrested 57-year-old Robert Dear after an hours-long standoff.
"When I saw him shooting the guns, it looked like he was talking to himself as he was shooting," said Craion.
Craion said she ran out of the exam room and into another, where she found a nurse and a patient unaware of the shooting.
"She was about to release the other girl to go back to the lobby because she was done with the services that they were doing," she said. "When I came in, they weren't aware of anything until they heard the gunshots and me identify that there was a gunman on site.
Craion said she and the others pushed an exam bed up against the door since it didn't have a lock. The three of them sat in front of the door for about five hours.
Police haven't released a motive for the shooting or said whether the Planned Parenthood clinic was the intended target. Dear exchanged gunfire with police throughout the day, authorities said.
"It looked like maybe there was someone outside that he was trying to aim at before he actually entered in the Planned Parenthood," said Craion.
Okay, I want to know who's actually going to take the blame? Obviously the junk food media will attack someone. Obviously I am going to automatically blame the shooter. But who would you blame for this tragedy.
Now that the Planned Parenthood Shooter is captured, who really deserves the blame?
Let me be clear, that gun violence is the number one threat in the United States. I believe that our country is so tone deaf to mass shootings. It's like President Barack Obama said, we're numb to these events.
We reacted quickly to the terrorist attacks in Paris, France. The moment it was revealed the terrorist were supporters of the Islamic State, American lawmakers automatically tried to pass legislation to restrain Syrian and Iraqi refugees from entering the country. They did more in Congress to stop refugees from entering the country than trying to stop mass shootings.