It's getting worse in Baltimore.
This year marks a grave milestone for Maryland's largest city of 615,000. The city of Baltimore has had over 300 homicides. That's approximately 1 person a day gunned down by firearms.
This milestone overshadows the controversial incident that happened back in April.
When Baltimore Police arrested Freddie Gray. he was screaming in pain. He was transported to the local lockup. When they arrived to the lockup they found a motionless Freddie.
Freddie was rushed to the hospital and placed on life support. The doctors determined that Freddie suffered a severed spine. He would die after three days.
The residents in this neighborhood recorded the encounter. They believe that the law was negligent.
It lead to three incidents of rioting in the city. The junk food media raced to the city to film residents robbing liquor stores and shoe stores. When the rioting died down, the state prosecutor charged six officers with involuntary manslaughter. Each officer has a day in court.
Post-riot there has been a 45% increase in violent crime in the city.
Baltimore, Chicago, St. Louis, Washington, DC, Sacramento, and Milwaukee have reported a surge in violent crime. The law singles out repeat offenders, illicit drugs and guns with bigger magazines as part of the increase.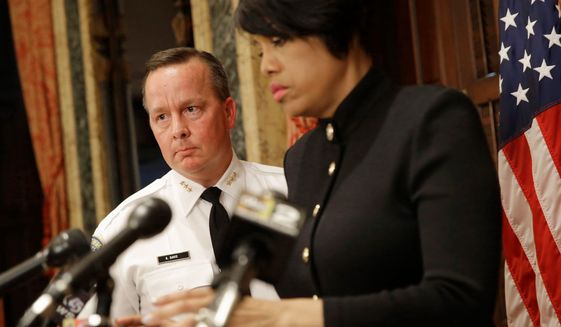 Baltimore mayor Stephanie Rawlings-Blake appoints new blood. The new police commissioner Kevin Davis has to turn it around or face a cannon firing.
Federal Bureau of Investigation Director James Comey last month said that murder rates were soaring in many cities partly because police were holding back from aggressive tactics, fearful of being video recorded and accused of brutality.
The so-called Ferguson effect has become the racist right's rally call.
Conservatives balked that #BlackLivesMatter plot murder on law enforcement.
Stephanie Rawlings-Blake fired the police commissioner Anthony Batts this year. The city award Freddie's family $6.5 million in punitive damages. Rawlings-Blake decided to not run for reelection.
The impact has sparked feverish discussion on police brutality and accountability.
GUN CRIME IS THE NUMBER ONE THREAT IN THE UNITED STATES! THIS BEATS TERRORISM AND DISEASES SUCH AS HIV AND EBOLA.
HEROIN WOULD BE CONSIDERED THE SECOND THREAT IN THE UNITED STATES.
THE INEPT LAWMAKERS IN WASHINGTON REFUSE TO PASS COMPREHENSIVE GUN CONTROL LAWS THAT PREVENTS CRIMINALS, TERRORISTS AND THE MENTALLY ILL FROM OBTAINING ACCESS TO FIREARMS.