She had a bubbly smile. Family and friends mourn the lost of Zella Ziona. The young transgender woman was murdered in suburban Washington, DC by a man who had a "gay panic".
I've been really busy over the last few days. I didn't get an opportunity to post much this weekend.
So many things are happening, I couldn't catch up to it. But one thing I've followed is the deaths of transgender women. This year there have been over 20 transgender women killed in the United States. Most of women were of color.
The names are not known by the junk food media, but many in the LGBT community have encouraged #BlackLivesMatter to rally for their cause.
The junk food media doesn't often talk about their lives. Many would regard them as "men in drag".
Some of these suspects would often have a "gay panic" if they found out their girlfriend was born a boy. Many in the transgender community believe that if you're identified as a woman or a man and you're attracted to the opposite sex, they would consider it heterosexual. Transgender women are attracted to straight men. Transgender men are attracted to straight women. They don't want to be labeled "gay" or "straight" in their relationships. They want to be labeled a "loving couple".
The junk food media doesn't often look at their stories.
Some of the victims were of the stroll. Some men would often pick up ladies and ask them for sexual favors. Many of the women had futures and it's damn shame that these lives were lost.
Let's clear something up. I understand that many in the Black community still have intolerance towards those in the LGBT community. I know that some people love to shame "straight" men who engage in sexual contact with transgender women and gay men. In turn that sparks the gay panic.
A gay panic will result in the "straight" man engaging in a violent act towards a victim because of a purported psychiatric condition called homosexual panic.
The Advocate keeps track of the numerous victims murdered this year alone. These women were murdered because they were transgender.
The gay shame happens when a scorned gay partner wants to expose their straight sexual partner to the general public. In turn, it becomes a gay panic and then turns into a dangerous situation for the person.
A gay panic involves the person who exposed the "straight" partner getting either assaulted or killed by that person. In the Black community, the straight partner will risk their freedom to protect their cred among their fellow peers.
Why they invented the down-low?
Because men who don't acknowledge themselves a "gay or bisexual" have these affairs with women and men outside of their relationships. Some men look at it as "I can have my cake and eat too" theory.
Because they can't hide their passions. All men love sex. Men enjoy the pleasure of being involved in sex with a partner. Regardless of the partner being a man or a woman, the alpha male will satisfy his needs with that person.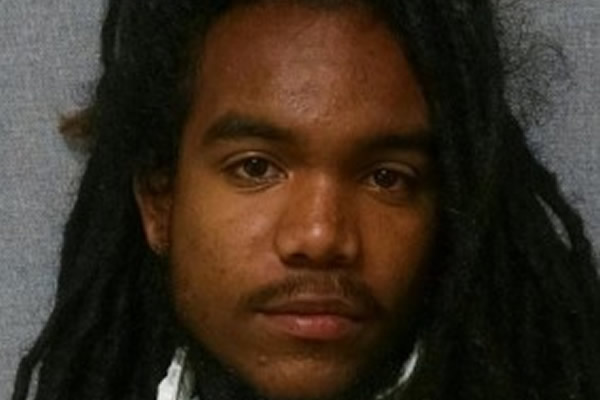 The key suspect in the murder of Zella Ziona said that she embarrassed him in front of friends. He claims that he had a "gay panic". This callous murderer is held on murder and possible hate crime charges.
In turn they create the possibility of spreading HIV/AIDS and Hepatitis in the Black community. Most of the times, they refuse to wear condoms and end up having unwanted children or an incurable disease.
They end up having Jerry Springer/Maury Povich moments.
Most celebrities in the Black community typically hip-hop and action movies go forth with the masculinity and a sense of having the baddest bitches at their side. They also rant about weaker men (or perceived gay men) as being "faggots" and "pussies ass Niggas".
Don't get me wrong, what people do in the bedrooms is solely their business.
I have no problem with the LGBT community. They're entitled to live their lives in peace and harmony. They deserve the right to marry. They're not bothering me. So let them celebrate their love in union.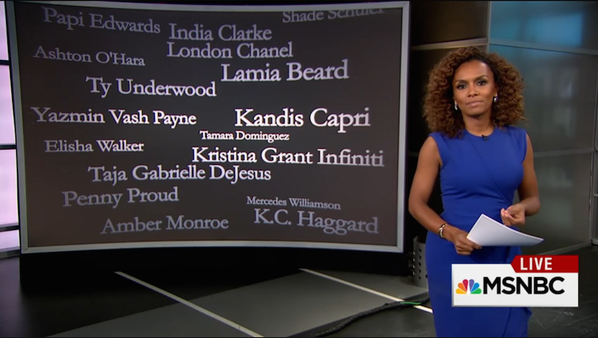 So many names listed. MSNBC's Janet Mock reads the names of transgender women murdered in 2015.
I do have a problem with the junk food media labeling the victims by their birth names. They don't identify themselves as "males". They want to be addressed as women. Will the junk food media respect that?
There were 20 women so far mentioned. Some had managed to attract national attention. Others were swept under the radar.
Here are some of the victims.
Papi Edwards,
Lamia Bold
Ty Underwood
Yazmin Vash Payne
Taja DeJesus
Penny Proud
Bri Golec
Kristina Gomez Reinwald
Keyshia Blige
Venessa Santillian
London Chanel
Mercedes Williamson
Jasmine Collins
Ashton O'Hara
India Clarke
K.C. Haggard
Shade Schuler
Amber Monroe
Kandis Capri
Elisha Walker
Tamara Dominguez
Kiesha Jenkins
These women died. Some of the suspects were apprehended. Some cases are still unresolved.

And the most recent murder of a transgender woman has now gotten national attention.
Zella Ziona was from suburban Washington, DC. Her life was cut short after an altercation with a group of teenagers.

"They argued and things happened so fast," the witness, who didn't want to be named, told the station. "I don't know what they argued for."

Her body was found in an alley with a gunshot directly towards her head. The alleged suspect Rico Hector Leblond was sought. According to witnesses, Leblond was pissed that Zella confronted him in front of his friends. Zella was pissed that the suspect spurning her.

The suspect claimed Zella was acting "flamboyantly" around him.

That's no excuse for this senseless act of violence.

The Montgomery County Maryland Sheriff ruled this a homicide and possible hate crime.
Her death would make 21 transgender women of color killed this year alone.

World News Today send our condolences those lost in this senseless tragedy.