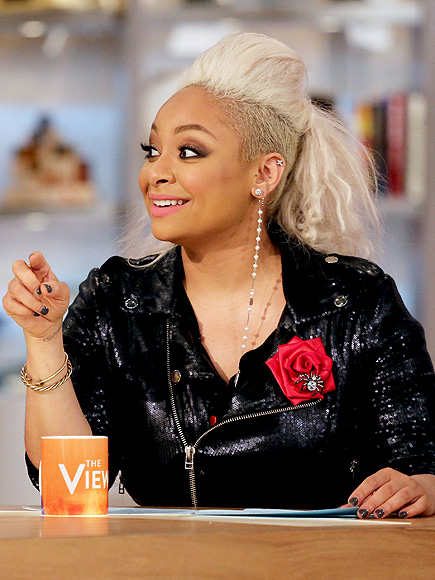 Raven-Symoné is a certified nut job. She says that if she wouldn't hire any Black sounding names. Yet, her name is!
The View co-host is a very eccentric woman. The entertainer gave up the squeaky clean Cosby, Disney kid image and came out a raging lesbian and celebrity agitator. She's a kush rolling, Marlboro Light smoking, multi-hair dying, nutjob who fell off the wagon.
Since the Cheetah Girls broke up, Raven went wild. She had a secret pregnancy. She got involved with bisexual model/actress AzMarie Livingston and running her mouth like she's a genius of Black culture.
Raven-Symoné Pearlman joined The View in Spring 2015 along with Whoopi Goldberg, Joy Bahar, ABC's Paula Faris, comedian Michelle Collins, actress/activist Candace Cameron-Bure (of Full House fame).
The ladies debate the latest "HOT TOPICS" and often get a controversial theme going.
Today on Friday's episode of The View, Raven-Symoné does something that's not so Raven.
She pops off about the know-hows to an earning a career. She claims that having "Black names" won't get you hired.
On a segment titled "Are You Judged By Your Name?" the former Cheetah Girl, donning a fire engine-red mohawk, said she wouldn't hire anyone with a "black" sounding name.
"Can we take back 'racist' and say 'discriminatory,' because I think thats a better word," she said while laughing. "And I'm very discriminatory against the words like the ones they were saying in those names. I'm not going to hire you if your name is Watermelondrea. That's just not going to happen. I'm not going to hire you."
Cue the irony.....What's her name?
I bet you money, that if she wasn't a somewhat successful entertainer, I bet you she wouldn't get a job because she has a "BLACK" sounding name.
I miss them days when she played a "bubblehead" on television and not one in real life.