Fetty Wap's debut album is out. He was badly injured after his motorcycle crashed into a car over the weekend.
New York-based rapper Fetty Wap was injured in a motorcycle accident. He's a rising star in hip-hop with the smash hits "Trap Queen", "My Way" and "679".
Fetty Wap was riding in his hometown of Peterson, New Jersey when this accident occurred.
Wap is legally blind in his left eye from glaucoma. He has a glass eye.
Wap is becoming a sought after rapper. After getting a big boast from Drake on the single My Way, he's been a chart topper.
His debut album on Atlantic came out Friday. On Saturday, he was injured riding his motorcycle through Petersen, NY. He was cutting and weaving through traffic when a car came from a turn and hit his ride.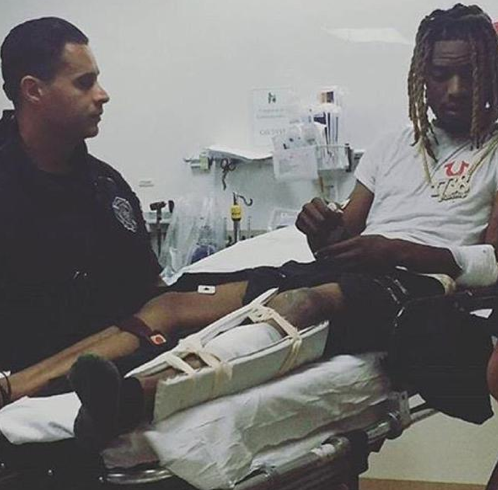 Wap being treated for his injuries.
He took a nasty fall. He was rushed to the hospital and treated for a few cracked ribs and broken leg.
Wap took to social media to say thanks to all his supporters for their blessings. He promises to be back on tour once he recovers from his injuries.
The law might cite him or the other driver for the accident.
Believe me he could have been the first rapper to die after a major label album release.
The hip-hop album is self-titled debut. It doesn't have many features other than the Remy Boyz, a clique that he is a member of.
Willie Maxwell (born June 7, 1991), better known by his stage name Fetty Wap, is an American rapper from Paterson, New Jersey.
He is best known for his 2014 hit single "Trap Queen", which peaked at number 2 on the United States Billboard Hot 100 in May 2015, followed by the top 10 singles "679" and "My Way". He signed with 300 Entertainment in November 2014 and released his self-titled debut studio album in 2015.
He was also chosen as part of the XXL magazine 2015 Freshman Class.
World News Today send our prayers to Fetty Wap. We wish him a speedy recovery.