Shooting suspect Joseph Johnson-Shanks (left) poses with Missouri law enforcement. He was the suspect in the killing of a Kentucky State Police trooper. Conservatives are lumping him with Black Lives Matter.
Okay, from this point on, why don't we start associating every White criminal/terrorist to the conservative movement! Because it sure seems like an eye for an eye.
That old fart Limbaugh was bitching about the Kentucky State Police trooper Joseph Ponder being gunned down by Joseph Johnson-Shanks after a routine pull over. The suspect is Black and from the St. Louis area. The area seen unrest since the Michael Brown shooting. It became a rally cry for Black Lives Matter. The racist right seems fixated on blaming the group for cop killings.
As predicted, the racist right would lump every Black criminal to President Barack Obama and those in the Black Lives Matter movement.
Somehow, they unearth Johnson-Shanks' social media and found that attended the Michael Brown funeral and had sympathies for the Black Lives Matter movement.
Big freaking deal!
Kentucky State Police trooper Joseph Ponder wasn't going to arrest suspect. He was going to detain his vehicle and help him get shelter. Some troopers offer shelter for people who get pulled over with vehicle violations. The suspect would put the passenger and her children in danger.
Johnson-Shanks had a legal right to a firearm. He used the firearm in poor judgement and cut short not only this trooper's life but his own when he refused to concede. The KSP put him down after ignoring the orders.
The passenger faced the music because she didn't render aid to the trooper. She could have escape but continued to be with the suspect. She may face the murder charges.
Blaming Black Lives Matter is the only option for conservatives. The suspect was Black.
Where's the cries from Black Lives Matter when a cop is killed?
So from now on, I might as well label every White mass shooter, cop killer, child molester, rapist and terrorist to AM agitators, that network and agitators in the junk food media.
Matter of fact, we'll lump Limbaugh, Glenn Beck, Alex Jones, Dana Loesh, Bill O'Reilly, Michelle Malkin, Ann Coulter, that annoying conservative agitator Sean Hannity, Michael Savage and asshole Mark Levin responsible for the actions of every White criminal.
Since we've lumped criminal behavior, the next mass shooter read InfoWars, The Drudge Report, World Net Daily, GotNews, The Blaze and The Daily Caller before the mass shooter had an inspiration to kill.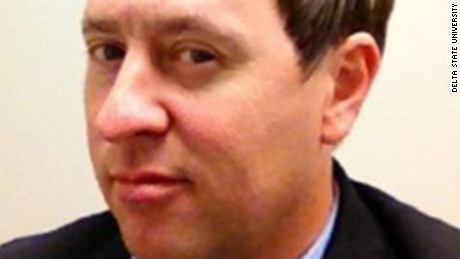 Shannon Lamb a former professor murdered his girlfriend and another fellow professor. Should we blame conservatives for his actions? He comes from Mississippi, one of the most conservative states in the nation.
Since the conservatives can't seem to back down from the blame game, its noted that Black America should squarely place the ire of a mass shooting on them.
I know I hate to blame others for an individual's own decisions. We live in a society where the junk food media sparks interest in these events, for ratings.
I said gun crime is on the rise. This is the biggest threat in the nation. This overshadows terrorism and Ebola. Gun crime is the most talked about issue in the United States. Over 2,300 people are injured by firearms. Over 4,000 people died by firearm a day.
Okay, let's get to Mississippi. A terrorist murdered two and then took out his own life. The families are shocked to here this man (i.e. the nice guy) would commit such an act. The state is mourning the loss of this college professor who inspired his students to greatness.
Really who takes the blame for the Delta State University shooting?
A) BARACK OBAMA
B) BLACK LIVES MATTER
C) NRA
D) AL SHARPTON
E) THE SHOOTER
F) ALL OF THESE ABOVE
If you picked the shooter, then you're correct. But if you picked the rest of them, you're not helping.
Amy Prentiss was gunned down.
Concern trolls and conservatives blaming Black Lives Matter. Hell why don't we lump the terrorist with conservatives.
Instead of blaming the terrorist who murdered his girlfriend and a college professor at a rural Mississippi university, we'll just blame AM agitators for the shooting.
Shannon Lamb committed mass murder over the past day. This terrorist killed Amy Prentiss his longtime girlfriend before driving to Delta State University to settle a score with a former friend.
This terrorist puts a bullet in the head of Ethan Schmidt, a professor in history. This terrorist was a former geography professor who had mental issues.
He lives in Mississippi one of the most Republican friendly states in the nation. He had obtained the legal right to firearm. He decides to make his children survivors of the court because of his actions.
He was a single parent raising two children. He was struggling with monetary issues.
He was a talented man. This terrorist had an opportunity to escape the troubles by performing music at local clubs. He leaves his friends and band mates stunned about this.
This terrorist probably believed Amy was having an affair with Ethan. He should have dumped her and move on. He should have gotten a STD test and count your blessings that she didn't steal his property.
Whether it was an affair or not, the actions committed by this terrorist destroyed families.
Ethan leaves behind a wife and three children. He was a beloved instructor at Delta State. Amy was a mother of a budding musician. She leaves behind her daughter who performed with the terrorist.
So I am guessing if you want to lump a mass shooter to conservatism, go right ahead. They are lumping a Missouri man's ties to Ferguson as an excuse.
Ethan Schmidt was a beloved professor who taught history. This terrorist Ethan once referred a friend killed him.
Okay, well there's some unraveling of the Fox Lake cop shooting. The FBI and Illinois active search team are looking for three suspects. Two White guys and a Black guy. Somehow, they still haven't gotten the lead. It's been two weeks since the death of a Fox Lake officer, the case is getting cold.
Or was there ever a case?
Did the officer Charles Joseph Gliniewicz (known as Officer Joe) commit suicide?
There is word on the street that Officer Joe put a bullet in his torso. We can't confirm that he committed suicide. But the bag em ups said that evidence is shaky.
The FBI thought they had a strong lead. That lead lead to nowhere.
Since Black Lives Matter was blamed for the death of Officer Joe, wondering if the conservative will recant their accusations if the case turns out to be a self-inflicted wound?
Your thoughts on the matter? Post them here.
World News Today send our condolences to the families of Joseph Ponder, Ethan Schmidt, Amy Prentiss and every victim of gun crime in the United States.