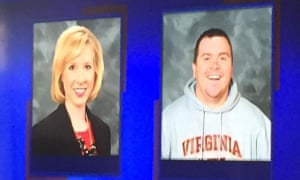 Another mass shooting happened in the suburbs of Roanoke, VA. WDBJ releases a statement on the deaths of Alison Parker and Adam Ward. They were murdered by a terrorist on live television.
Damn, this happened in the United States and this isn't a joke. A mass shooting happened today it was live on television. What happened may shock you. The victims are part of the junk food media.
WDBJ 7 confirms that Alison Parker, 24, cameraman Adam Ward, 27, were killed by this terrorist.
Around 6:45am this terrorist put the slugs directly in them and three other victims.
The Roanoke community is totally shocked by this event. I mean you hear about reporters being threatened and assaulted on live television. But this one shocked me.
Alison was in Moneta interviewing a Vicki Gardner, a representative from the local chamber of commerce, when up to eight shots rang out. Screams followed as the camera fell to the ground. The station went back to broadcast. Approximately over 130,000 people viewed this tragedy live on television.
This terrorist was a former employee for the station. He went on to stalk news reporter Alison Parker.
In a disturbing video, it allegedly shows the shooter aiming at Alison. He shot her at point blank range. He also aimed at Adam and even Vicki.
In less than 30 seconds, you see this terrorist aim directly at Alison.
Alison grew up in Martinsville, Virginia, and attended Patrick Henry Community College and James Madison University, and was engaged to one of the anchors at the station. Adam graduated from Salem High School and Virginia Tech, and was engaged to a producer at the station.
The AP and Guardian report that the terrorist is known as Vester Lee Flanagan II (known as Bryce Williams). He is singled out as the suspect. He is a former news reporter. Matter of fact, he is the disgruntled news reporter. He is a 41 year old Black man who went by the Bryce Williams name.
This terrorist posted video of the shooting on his Facebook and Twitter pages. The video shows him approaching the victims, and pointing a gun at them. He is behind them for several moments as Alison interviews Vicki. The camera then shakes and drops as he opens fire. The footage captures what appears to be a fleeting image of the terrorist, who is wearing black trousers and a blue top, holding a Glock handgun.
This terrorist went on to shooting himself after a statewide manhunt.
Democratic Governor Terry McAuliffe and President Barack Obama were notified by this around 8:00 am. Expect them to respond in the coming hours.
The terrorist had claims that Alison upstaged him and she may have said racially offensive statements towards him. Others who had worked with the terrorist said that he had an anger issue. He was the volatile human being.
Heavy reports that the station manager had nothing but praise for Alison and Adam. Condemnation for the terrorist. This terrorist worked at WDBJ from March 2012 to February 2013.
"Vester was an unhappy man. We employed him as a reporter and he had some talent in that respect and some experience," WDBJ General Manager Jeff Marks said, according to Buzzfeed "He quickly gathered a reputation of someone who was difficult to work with. He was sort of looking out to people to say things he could take offense to. Eventually, after many incidents of his anger, we dismissed him. He did not take that well. We had to call police to escort him from the building."
Marks added, "Someone with a gun, we believe it was a man, barged into where they were and fired several shots, six or seven, it sounded like. We heard screaming, and then we heard nothing, the camera fell.
"Today was just like any other day," anchor Kim McBroom said on the station's morning broadcast. "They did great work every day and put their all into everything they did.
"They were special people. They would lighten up a room."
With crying on the set of the studio audible, another anchor, Jean Jadhon, described Parker as "a rock star. She was a professional, so much fun and so kind."
"The scene was described to us as chaos."
He expressed disbelief at the shooting: "How can this individual have robbed these families of Adam and Alison of their happiness and their love, for whatever reason."
Cue the concern trolls. I am guessing the blame Barack Obama and Black Lives Matter will happen soon. Matter of fact, I will post the social media reactions.
World News Today send our condolences to the families of Alison Parker and Adam Ward. We send our prayer to the Vicki Gardner.
Already that old fart Rush Limbaugh is trying to turn it into a racial event. Of course, I agree with him on that narrative. But also I think its an act of domestic terrorism.
Limbaugh usually gets riled up when he is blamed for the shooter's actions. Of course, when the shooter gets his information from him and that network, the left automatically blames these outlets.
The right often times uses race as a wedge issue. They automatically use it to blame President Barack Obama and the Black community for allegedly ignoring the lives of White victims. Matter of fact, in the next post we'll see the blame game circular.
SO WHO WILL BE BLAMED FOR THE SHOOTING?
A) BARACK OBAMA
B) FOX NEWS
C) CONGRESS
D) BLACK LIVES MATTER
E) RUSH LIMBAUGH
F) THE SHOOTER
If you picked F, then you're right. But if you pick anything else besides F, then you're a part of the problem too. Yeah, Obama and Congress have stalled on gun control. Rush Limbaugh, that annoying conservative agitator Sean Hannity and that network spend time agitating those with mental issues. Black Lives Matter needs to focus on every victim of gun crime.
Gun crimes are happening every freaking day.
AGAIN BE WARNED THE VIDEOS ARE DISTURBING