Time out for Brady. He is in federal court fighting the time out.
Roger Goodell is being forced to straighten out the behavior of the NFL. He's faced pressure since the Ray Rice incident. The controversies continue into 2015.
New England Patriots quarterback and celebrity agitator Tom Brady is facing a four game suspension for his alleged role in the AFC playoff game where he order staffers to deflate game footballs.
The game held in 2014 was a clear victory for New England. They played the Indianapolis Colts.
The Colts were handily beaten but concerns came when they were complaining about game balls being lighter than normal.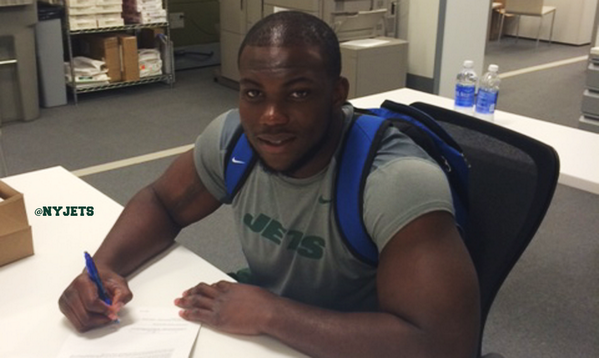 I.K Enemkpali got shipped to Buffalo after he served Geno Smith a five knuckle special.
It lead to critics saying that coach Bill Belichick and Tom Brady set up the move. Some call it Deflategate or Cheatergate. Nonetheless, the Patriots went on to win the 2014-15 AFC season and Super Bowl XLIX.
Now a new season and they're on point to do a better season. They've been fined heavily and lost two selection picks. Brady who was accused of hiding evidence got the suspension handed to him plus a hefty fine. He took it to federal court and is gambling on his chances.
If the federal court rules in favor of the NFL, he may be suspended longer.
Geno Smith got healing time after former teammate served him a special.
Some are bitching about the court reporter's horrible rendition of the world's most valuable quarterback. Accusations of a New York Giant supporter trying to make Brady look like a grumpy cheater.
New York Giants are the Patriots rival.
And what got the sports agitators and junk food media buzzing is the New York Jets sacking of Ikemefuna Chinedum "I.K." Enemkpali.
He was fired out the cannon for giving a five finger roll to Geno Smith during a heated dispute over a debt. Enemkpali was getting fed up with Smith's delay of a $600 debt. The debt was met with a five finger roll served with a side of knockout punch.
Tom Brady's courtroom sketch was panned by fans. It went viral because of the alleged emotions in federal court. Some claim that the sketcher was a New York Giants fan.
Geno Smith got a jaw breaker and is out for a few months. Enemkpali may face criminal charges and some game suspension and/or hefty fines.
On top of that he's on the bubble. The Buffalo Bills decides to pick him up.
Preseason begins. Wondering who got's game.
Knowing that Tom and IK are facing some heat for behavior, Roger got a lot of work to do to keep the world's most popular sport in tact.
Ray Rice could sign with the Cleveland Browns. A year after the mandatory suspension and worldwide condemnation.