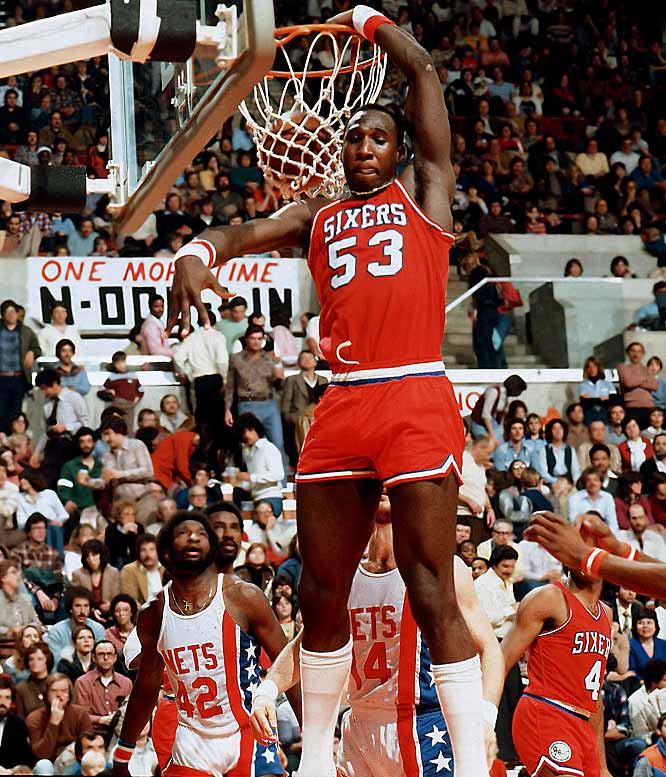 The famed Chocolate Thunder, Darryl Dawkins passed away.
The legend of Chocolate Thunder. The famed dunking center would often break the glass when he done them dunks. He earned the name from R&B legend Stevie Wonder.
The name stuck, and the rim-wrecking, glass-shattering dunks remain unforgettable — as will the giant of a man who changed the game with them. Darryl Dawkins died Thursday at a hospital in Allentown, Pennsylvania, according to the Lehigh County coroner's office. He was 58, and even though officials said an autopsy would be performed on Friday his family released a statement saying the cause of death was a heart attack.
"Darryl touched the hearts and spirits of so many with his big smile and personality, ferocious dunks, but more than anything, his huge, loving heart," his family said. "His family, wife Janice, children Dara, Tabitha, Nicholas and Alexis, along with countless family, friends, and fans, all mourn his loss.
"More than anything Darryl accomplished in his basketball career as the inimitable 'Chocolate Thunder,' he was most proud of his role and responsibility as a husband and father," his family added.
Dawkins, the first player to go from high school into the first round of the NBA draft, spent parts of 14 seasons in the NBA with Philadelphia, New Jersey, Utah and Detroit. He averaged 12 points and 6.1 rebounds in 726 career regular-season games.
NBA Commissioner Adam Silver said Dawkins was "beloved around the league."
He was a beloved player said NBA commissioner Adam Silver.
"The NBA family is heartbroken by the sudden and tragic passing of Darryl Dawkins," Silver said. "We will always remember Darryl for his incredible talent, his infectious enthusiasm and his boundless generosity. He played the game with passion, integrity and joy, never forgetting how great an influence he had on his legions of fans, young and old."
Dawkins was, by any measure, a character. His love for the game was unquestioned and unwavering — he appeared at an 76ers alumni event earlier this month and recently posted a photo to his Twitter account of him coaching a summer-league girls team.
Dawkins was as revered off the court as he was on it. He remained enormously popular after his playing days were done, even during his stint as a member of the Harlem Globetrotters. He would name his dunks — the "look out below," the "yo-mama" and the "rim wrecker" among them — and often boasted that he hailed from the "Planet Lovetron."
In actuality, he was born and raised in Orlando, Florida, growing up impoverished with dreams of giving his mother and grandmother better lives.
"A great man, entertainer, athlete and ferocious dunker," former NBA guard Kevin Johnson wrote on Twitter. "He will be missed but not forgotten."
Injuries plagued Dawkins late in his NBA career, and he went overseas for several more years to play in the Italian league. He also briefly had stints in the Continental Basketball Association and the International Basketball Association. He also coached at times, at both the minor-league and junior-college levels.
He averaged double digits in nine consecutive NBA seasons, with his best year likely being the 1983-84 campaign for New Jersey. He averaged a career-best 16.8 points that year, with only foul trouble — 386 that season, still a league record — holding him back.
"Darryl Dawkins is the father of power dunking," Shaquille O'Neal once said. "I'm just one of his sons."
Many across the country expressed their thoughts to a great legend. World News Today send our condolences to the family of Darryl "Chocolate Thunder" Dawkins.