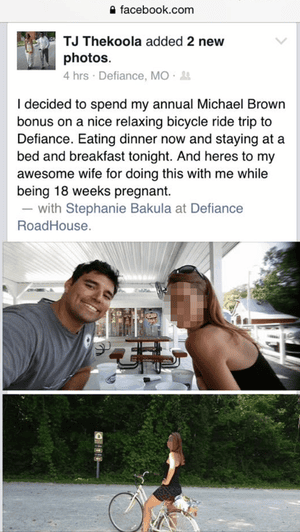 The state of emergency may be over for the folks in St. Louis County. The scene of the unrest during the 2014 shooting of Michael Brown. The residents celebrate the first year of the tragic shooting.
Some events in the city of Ferguson and vicinity, added the movie premiere of Straight Outta Compton got the law enforcement working extra overtime in the handling possible breaks of unrest.
Unrest is the junk food media's sanctioned word for rioting and looting. This comes after calls of media bias by protesters who believe the media treats White rioters and looters that cause damage differently.
Now a St. Louis County deputy is going to face some time in the freezer after some unearth a social media post of him saying that his duties to cover possible unrest were like getting an "annual Michael Brown bonus".
Officer Todd J Bakula, known as "TJ", appears to be showing off about extra money earned while part of a massive police response throughout this week with the anniversary demonstrations of Brown's death, which saw St. Louis County cops working long hours.
"I decided to spend my annual Michael Brown bonus on a nice relaxing bicycle ride trip to Defiance," a Missouri recreation destination about 40 miles from Ferguson, Bakula wrote on his personal Facebook page under the name TJ Thekoola. "Eating dinner now and staying at a bed and breakfast tonight."
Well apparently it reached his superiors and they're having a shake their head with disgust moment.
Shawn McGuire the public relations officer was none too happy to hear this.
"Police officer Bakula is a patrolman with the St Louis County police department."
"We understand the post is controversial," McGuire said. "The St Louis County police department takes these allegations very serious in every case. The remarks on the Facebook page will be investigated by our department."
Bakula clammed up after being called by The Guardian and other media outlets.
He thought his post wasn't causing any harm.
In the wake of the shooting of Michael Brown, calls for police reform are growing. Last week we had three events in which unarmed suspects were gunned down by law enforcement.
Zack Hammond, Dontae Martin, Sam DuBose, Christian Taylor, and so many more.
One could wonder why would a member of law enforcement post an offensive posting given the protesters the notion that those responsible for the deaths of unarmed suspects practiced reckless judgement.