The former president of the Taliban who the U.S. sought for aiding terrorist leaders Osama bin Laden and Ayman Al-Zawahrii may have been killed. The United States hasn't confirmed this.
The United States government is trying to confirm that the former president of Afghanistan was killed in an incident. There's no official word on the death.
Mohammad Omar, the Mullah of the Taliban and supreme president of Afghanistan may have been caught. By which caught is the disease that kills without treatment. Some say that he died of Tuberculosis.
The United States doesn't even have an official picture of Omar. He is so reclusive, most of the government business during the time of the Taliban was handled by his English spoken assistants.
They outlawed photography and its possible the only known picture of the leader is what was reported by the BBC.
He was a 6'6'' tall man who had one missing eye. He was the father of 15 children.
There have been several reports of Mullah Omar's death in the past.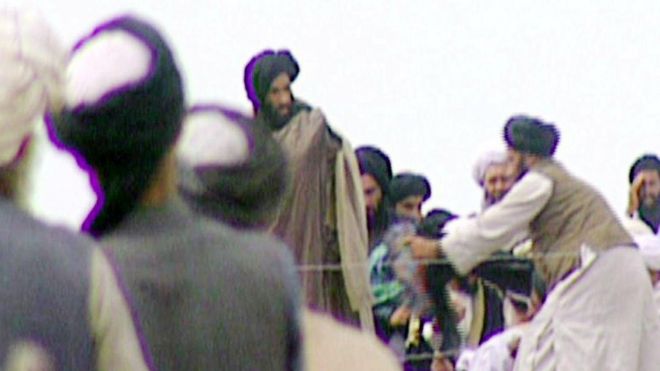 A confirmed picture of Mohammad Omar, the Mullah of the Taliban. You rarely see him in public. He doesn't often talk to the press and his government banned photography.
However, this is the first to be confirmed by top sources in the Afghan government.
Mullah Omar led the Taliban to victory over rival Afghan militias in the civil war that followed the withdrawal of Soviet troops.
His alliance with al-Qaeda leader Osama Bin Laden prompted the US-led invasion of Afghanistan in 2001, in the aftermath of the 9/11 attacks on New York and Washington.
This is a documentary spoken in Urdu.