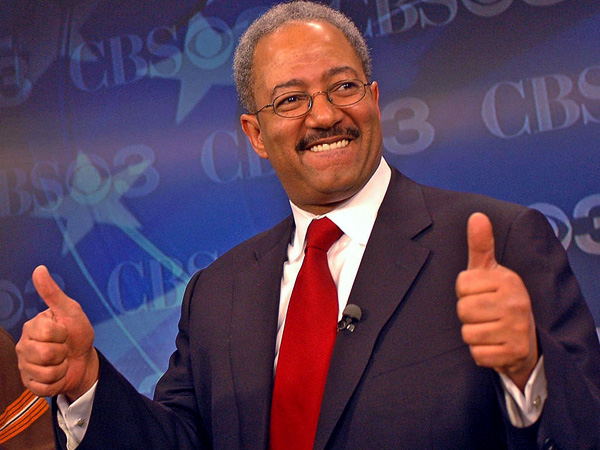 Money talks and a lot of bullshit gets elected. Rep. Chaka Fattah (D-PA) is a longtime Philadelphia lawmaker who is facing a federal slam for corruption.
A longtime lawmaker from Philadelphia is under federal indictment for corruption.
Paging Melanie Sloan of the C.R.E.W., we got another one for you!
Rep. Chaka Fattah (D-PA) served his district for over 20 years. The law handed an indictment based on his association with an aide that helped him gain $$$$$$$$. This is a complex money laundering scheme in which Fattah and his former aid Gregory Naylor would use a million dollar loan for an that a currently unnamed candidate got when Fattah went through his failed bid to be mayor of Philadelphia.
He would then pay back the money with federal grant money that was intended for nonprofit groups that Fattah was associated with.
Naylor plead guilty in this charge. In order to shave off the severity, he sung like a canary and threw his buddy under the bus. Even Fattah's son Junior is under indictment because he obtained student loans from a "wink, wink" nod.
Fattah got served 29 slams. Each slam carries up to LIFE in federal time out if he's found guilty.
Fattah is innocent until proven guilty. These slams include:
Using a secret $1 million loan from a wealthy supporter to back his 2007 run for mayor of Philadelphia.
Repaying the donor's loan through a nonprofit Fattah controlled that had received funding from the federal government.
Attempting to steer a $15 million federal grant to a political consultant who Fattah's campaign owed $130,000.
Using campaign funds to pay a consulting company, which then paid off $23,000 in student loans for Fattah's son.
Taking an $18,000 bribe from an associate in exchange for attempting to secure him an ambassadorship and masking the bribe in the form of a fake car sale.
This year alone two active Democratic lawmakers are under indictment. Sen. Bob Menendez (D-NJ) and Fattah have been indicted by the U.S. Justice Department.
Menendez claims that Obama's punishing him for not supporting the Iranian deal. But in reality, he's under indictment for skirting funds to a longtime friend who got $$$$$$$$$ in a medical scam. Also the talk about messing with underage prostitutes in the Dominican Republican comes to mind.
Look at this as a reason to why Congress has low job approval.
Look at this as a possibility for Republicans to seize on a district the Democrats have long secured.
Look at this as a possibility to blame President Barack Obama for the embattled Democratic lawmaker's failures.
Fattah's 2nd Congressional District is SAFE DEMOCRAT. The district represented has a Cook Political Index lean of D+39.
It's ironic, he says he creating solutions to problems, when in reality he is one of the problems.