This picture of a Black lawman helping a White extremist went viral.
We haven't forgotten about that White terrorist who killed nine innocent church goers in Charleston.
The shooter is alive and will face trial next year. While he's sitting in the lockup next to the ex-cop who killed Walter Scott, pressure came to the South Carolina's governor to remove a symbol that terrorist used in his social media postings.
Well Republican governor Nikki Haley caved to pressure and had the flag lowered finally.
Now a group of extremists weren't none to happy about it. They vowed to pressure the next Republican governor to raise that flag once again above the state grounds of the state capitol.
Bur they were met by another group of extremists. These extremist claim they stand for the same of the original, but their rhetoric is considered no different.
The Klan and the New Black Panthers clashed in Columbia. The law was prepared for potential riots.
One picture that seemed to circulate around the web. A Black South Carolina state trooper assist a White extremists.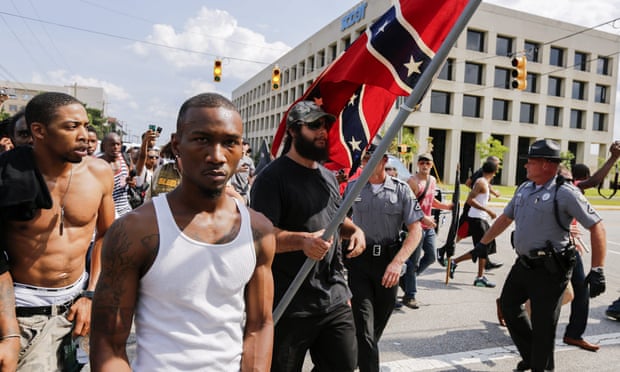 Once the flag went down, the junk food media left. But the impact is still there.
This is a contentious debate over that damn flag. It's the flag of the losing side. I don't understand why anyone would support the losing side.
The Confederate Flag doesn't represent Southern heritage. It represents an insurgency devoted to keeping Blacks as livestock. It represents the opposition.
I know that the junk food media is hauling ass to Chattanooga to cover the next mass shooting.
Matter of fact, have you hear any more about it?
No.
Do you know the victims of this mass shooting?
No.
I want to let you know that mass shootings are becoming a daily occurrence.
I am tired of them. I mean when will Congress do something about this stuff.
World News Today send our condolences to those lost in gun violence. The recent tragedies show the need for reasonable gun control.