50 Cent now known to the world as Penniless.
At the peak of the 50 Cent/Rick Ross feud, the media mogul told the junk food media he had dirt on Rozay's baby mamas. He even went as far to record a diss called Tia Told Me aiming at Rozay.
One of Rozay's baby mamas was none to kind to 50 after he leaked a sex tape of her. Now it has the media mogul owing up a lot of slow doe! ThisIs50 social media website leaked out the sex tape of Lastonia Leviston and her boyfriend doing the nasty.
Leviston scored a payday. The U.S. District Court ordered Curtis "50 Cent" Jackson to pay up for defamation of character and invasion of privacy. Matter of fact, the court will order him to pay up punitive damages.
Lastonia Leviston
The AP reported that 50 acquired a video she made with her boyfriend, added himself as a crude commentator and posted it online without her permission.
And the Manhattan jurors are set to continue deliberating next week on possible further, punitive damages in Lastonia Leviston's invasion-of-privacy lawsuit against the multi-platinum selling "Get Rich or Die Tryin'" artist.
Attorney William A. Brewer III says 50 Cent and his legal team are "disappointed in the verdict but very appreciative of the service of the jury and the court." Leviston's lawyer, Philip Freidin, declined to comment on the award, first reported by the Daily News of New York.
The lawsuit stems from a 13-minute video that appeared online in 2009 featuring a wig-wearing 50 Cent as a narrator dubbed Pimpin' Curly. The character made explicit remarks about Leviston and taunted rap rival Rick Ross, who wasn't in the video but has a daughter with Leviston. At the time the video surfaced, Ross and 50 Cent were trading barbs via video, lyrics and interviews.
50 Cent got the 2008 tape from the man in it, Leviston's boyfriend at the time. The rapper and his lawyers said that 50 Cent didn't actually post the video but that Leviston's then-boyfriend said she wouldn't mind if he did, and he thought that would suffice.
The Pimpin' Curly character was just "joking" by referring to Leviston as a "porn star," 50 Cent said during sworn pre-trial questioning that was played for the jury, according to news reports. He didn't testify at the trial.
But Leviston, of Pembroke Pines, Florida, said she was horrified and humiliated when the video appeared online.
"This was something done to me. I didn't have a choice. I would never, ever do this to myself," she testified, according to news reports.
50 burst to the fore of gangsta rap with 2003's "Get Rich or Die Tryin,'" its lead single, "In Da Club," and a tough life story that included being shot nine times.
50 now celebrates his birthday cutting a check. The rapper just turned 40 this month and was getting ready for his premiere of Southpaw. I guess he'll be bumming money from some of his entourage.
50 just recently filed for bankruptcy after this deal. He was once worth $165 million in sales, now I am not even sure if 50 has at least a $10 million in the bank.
I remember that 50 clowned on Young Buck when he had to file for the bankruptcy. I remember 50 clowned on Game when he was caught up in fiscal problems. 50 even laughed when his old producer Scott Storch burned his fortunes on snow!
Now it seems like 50 finally hit rock bottom.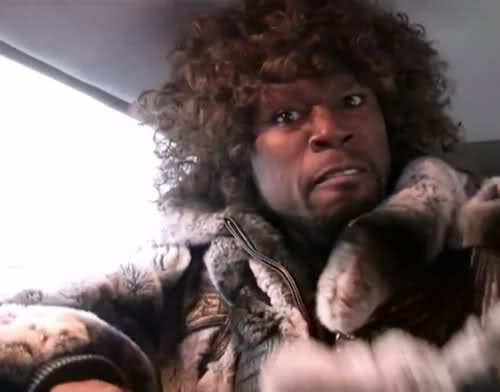 50 as Pimpin' Curly.
He's no longer putting hits on the radio. He got into a hissy fit with Jimmy Iovine over the handling of his album. He bounced from Interscope and lost all the A-game production from long time friends Eminem and Dr. Dre.
He reunited The Unit after they broke up. They release a few mixtapes and digital album. They flopped. The fans asked 50 to end the feud with Game. 50 said no to that bum Nigga.
Now Game can finally claim victory. Even though Game is struggling in his fortunes, at least he doesn't have to file for bankruptcy like Buck and 50.
It seems like it comes full circle for Rozay and 50.
They both share something in common. Both are celebrity agitators and phony gangstas. They spend money like it was nothing. Now they've ran up the check.
Rozay already facing charges ranging from kidnapping, unlawful detainment and aggravated assault.
He could face up to 30 years in the iron college if he's found guilty. Rozay had to have his passport revoked and home confiscated.