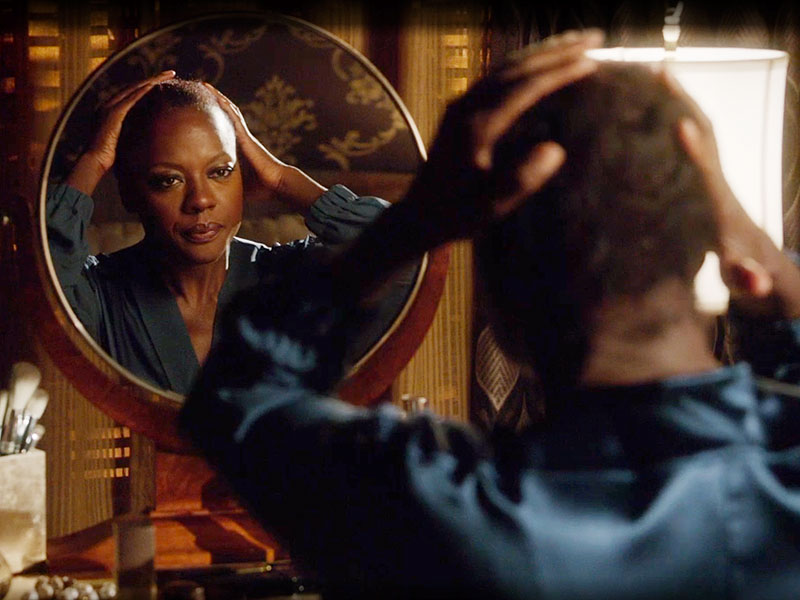 Annalise Keating showing the natural side.
How To Get Away With Murder is co-produced by Peter Nowalk and Shonda Rhimes and it features Broadway's famed Viola Davis. The ABC drama is a go for second season.
HTGAWM for short is one highly praised drama. I'm a fan of the series.
Viola plays the role of Annalise Keating as a law professor at a prestigious Philadelphia university who, with four of her students, becomes entwined in a murder plot.
One of the most famous scenes was Annalise taking off her wig, her eyelashes and wiping off the makeup and showing the natural side of her. It was ad lib and it was Viola's idea.
Kerry Washington, Viola Davis and Ellen Pompeo.
She wanted to do this as a reminder to women that beauty is inner deep.
There was something for me that I didn't buy about Annalise in private. It felt like who she was in private had to be diametrically opposed to who she was in public. And so in order to do that, I felt like I had to physically take the wig off. I mean, I have no eyebrows. I have eyelashes that I put on, and there was something extremely vulnerable about that act -- and I know it seems like a very simple act at the end of the day -- but for me, that simple act really surmounted to something very powerful in the end, because what it was was someone being very, very private in public, which is absolutely the cornerstone of what we do as artists.
That episode was epic.
Rhimes have gotten fans talking about controversial seasons of Grey's Anatomy and Scandal.
She promises fans that they will be even better.
A lot of talk coming from the killing of Meredith Grey's husband Derrick Shepard (played by Patrick Dempsey). Fans weren't happy about the decision to write off Dempsey's character.