Republican governor Nikki Haley holds a press conference in Columbia. She is under pressure to have the Confederate flag removed from the state capitol grounds. Joining her in the conference includes Rep. Jim Clyburn (D-SC), Sen. Tim Scott (R-SC), Sen. Lindsey Graham (R-SC) and Rep. Mark Sanford (R-SC).
South Carolina Republican lawmakers Trey Gowdy, Joe Wilson, Jeff Duncan, Tom Rice and Mick Mulvaney are ignorant lawmakers. They act like it's business as usual. They would not join in solidarity with their fellow Republicans in denouncing the Confederate Flag.
Republican governor Nikki Haley, Rep. Jim Clyburn (D-SC), Rep. Mark Sanford (R-SC), Sen. Tim Scott (R-SC) and Sen. Lindsey Graham (R-SC) call for the removal of the Confederate flag around the state capitol grounds.
Haley, Scott and Graham bowed to pressure. They were harshly criticized for embracing it. Haley in a press conference with Scott, Sanford, Clyburn and Graham called for state lawmakers to take down that flag.
Graham is one of the many clowns in the race for the red nose.
"The events of the past week call on us to look at this in a different way," Haley said, adding that now is the time "to remove the flag from the capitol grounds."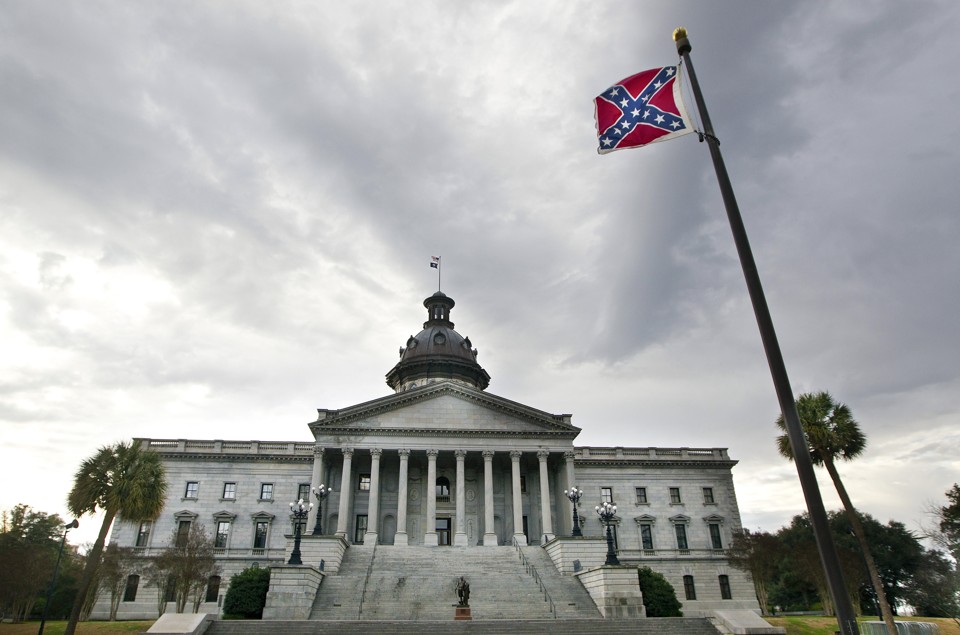 The Confederate flag sways in the wind.
Former GOP presidential nominee and perennial loser Mitt Romney recently endorsed removing the flag. Haley endorsed Romney in the 2012 election.
Haley, the first female governor. She is an Indian-American who grew up on diversity. She is the youngest governor in the United States. Some want her to become a veep nominee.
Of course, many lawmakers in the state house are probably cold feet on this. However the pressure is mounting and South Carolinians are calling for change.
President Barack Obama informed Haley that he will be there for the eulogy of Clementa Pickney, the pastor of Mother Emmanuel AME Church. Pickney is a Democratic state lawmaker. He along with eight others were gunned down by a White terrorist.
Obama acknowledge that racism has gotten worse.