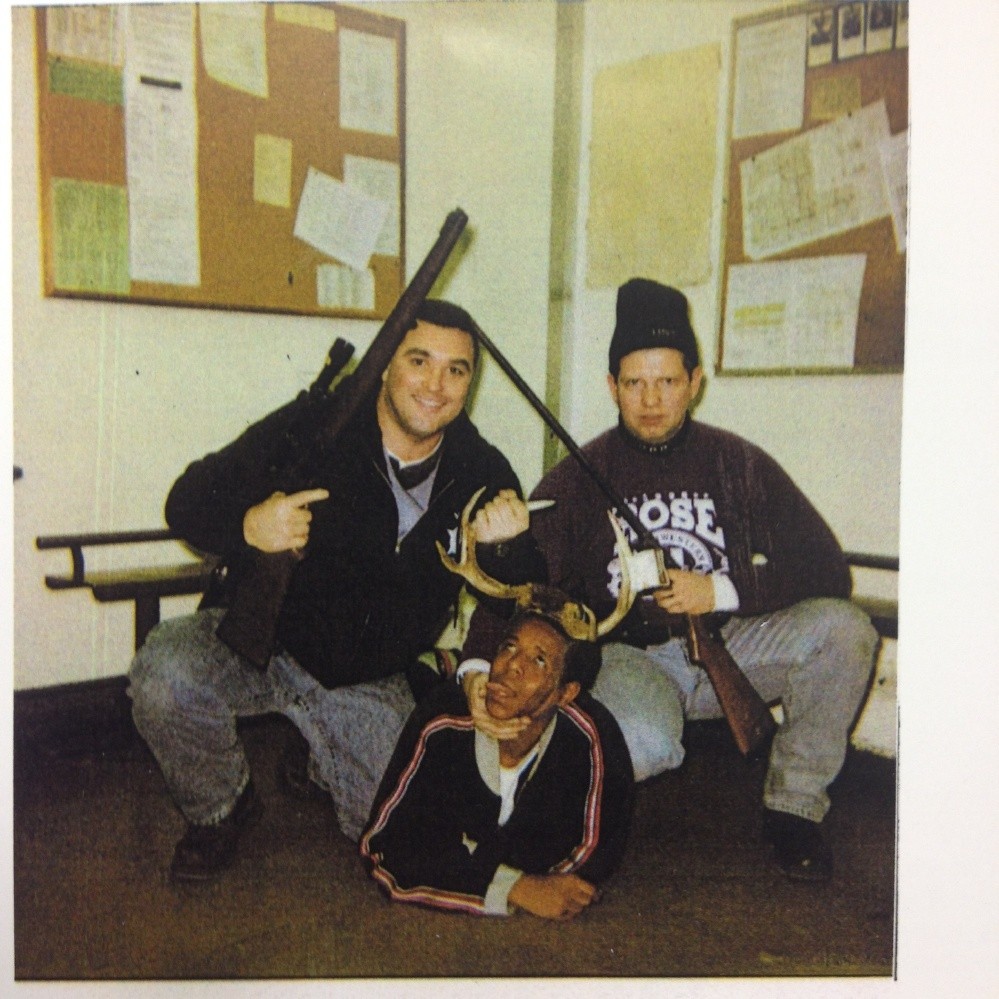 You won't believe it! These are two cops with a suspect. The suspect is wearing antlers.
Spreading racist emails, taking inappropriate pictures, doing unprofessional things on social media all the while wearing the badge is not an coincidence. It's a matter of common practice.
Will that annoying conservative agitator talk about this on his right wing carnival?
Nope. It doesn't fit the narrative to blame President Barack Obama. The president is passionately talking about the case for unity among the police and the communities they serve.
Psst...Obama's Black.
The president can testify to it. He was profiled by the police when he was a nobody. And for him to talk about the disparaging interactions between the Black community and the law, the conservatives claim it's anti-cop and racist.
This picture is of two former Chicago cops posing with a suspect. They decided wanted to share a funny picture with fellow officers. They decided to put antlers on the suspect and pose as two Elmer Fudds.
Real laugh riot.
The Chicago Sun-Times report that ex-cops Jerome Finnigan and Timothy McDermott were fired out the cannon after they were posing with this unidentified drug suspect.
Finnigan had already been fired out the cannon: In 2011, he was sentenced to 12 years in prison for leading a team of cops in robberies and home invasions. This may have inspired Chicago PD on NBC.
McDermott is fighting to wear the badge. He got a 5-4 decision in his cannon firing. The minority believe that it was a funny picture. The majority believe it's time to clean up the force.
This makes Chicago PD look like a bunch of idiots. Terrible.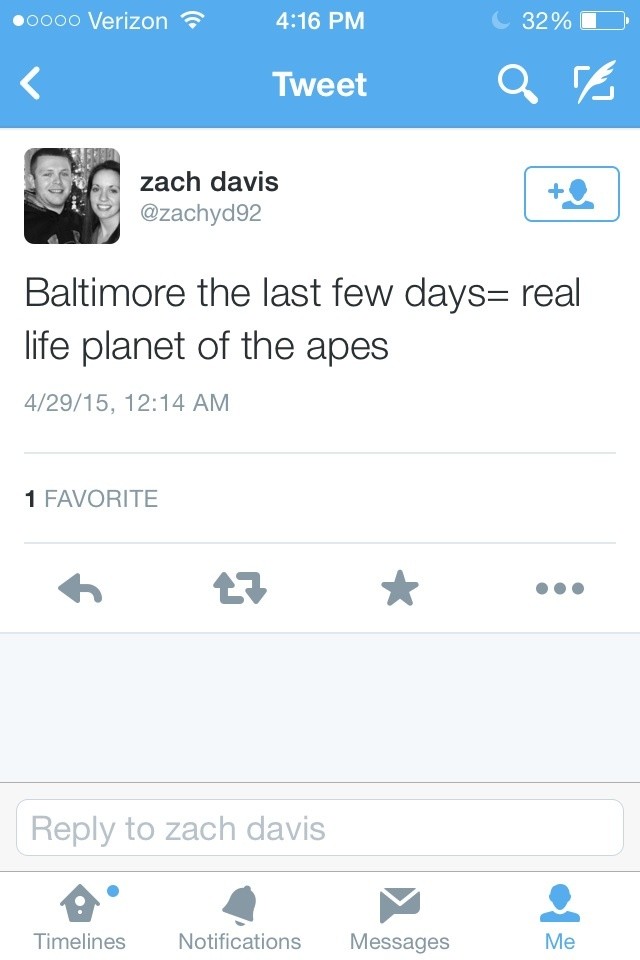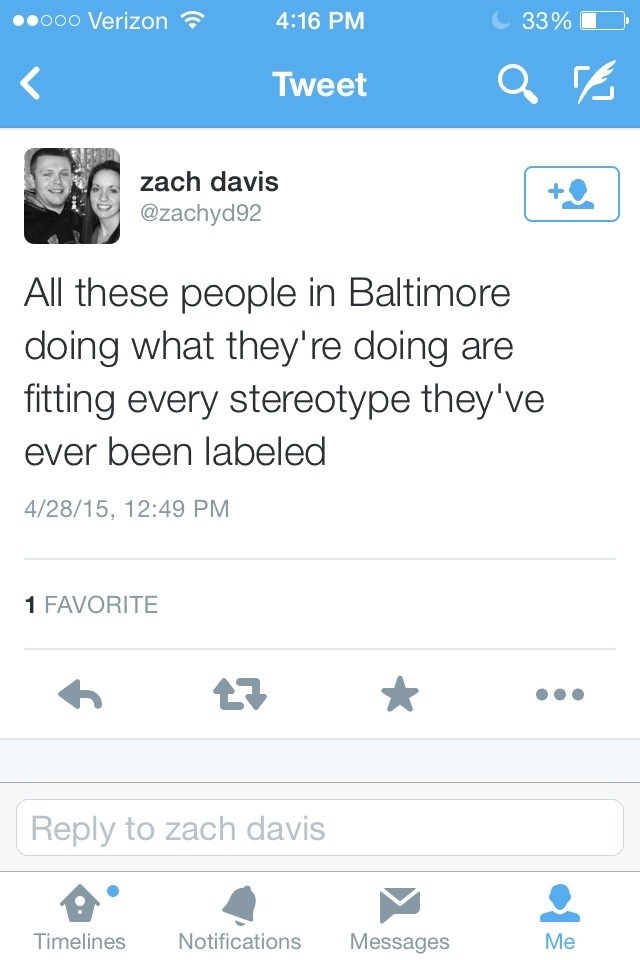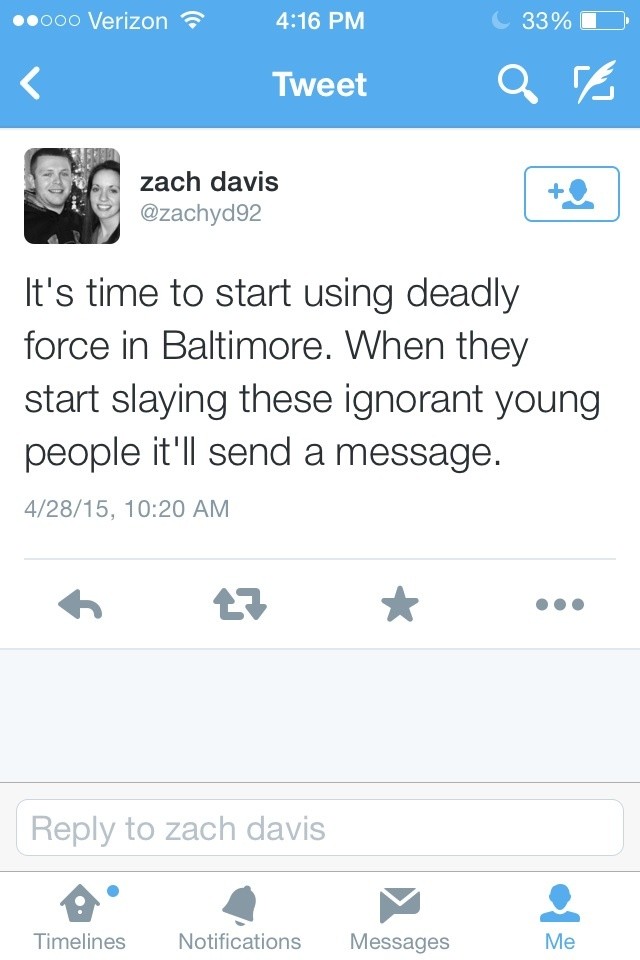 Even in my community an idiot sheriff's deputy got his online fixation. He was on Twitter and had shared some inappropriate thoughts of the Baltimore riots in the wake of Freddie Gray's death.
Clark County Ohio sheriff Gene Kelly said that this deputy is fired out the cannon.
Zach Davis got fired out the cannon.
Ex-deputy Zach Davis was caught online posting his thoughts on the rioting in Baltimore.
Davis said that the Baltimore riots were a "real life Planet of the Apes". And to make it worse, he said that rioters are "ignorant young people" who deserve "every stereotype they've ever been labeled."
When confronted with his post, Davis confessed and was immediately fired out the cannon.
Kelly said that Davis "did not believe he was racist" for publishing such comments.
The letter sent to the sheriff's office expressed concerns over the "insensitivity, hostility, and maliciousness" reflected in the tweets, and stated that such derogatory statements are unacceptable under any circumstances but especially troubling coming from a deputy who "holds the power of the state."
"Davis's tweets are offensive, inappropriate, and inhumane for the way they treat the black citizens of Baltimore, striping them of their humanity and rendering them 'apes' who should be 'slayed' to be taught a lesson," the letter reads.
Davis joined the force in April. Kelly said he has met with the local NAACP president, who supports his decision.
"I've done everything I can do to try and correct this problem," Kelly said. "It hurts us and this community and there's no place for it."
Now all deputies in Clark County will have to go through sensitivity training. They will now be forced to limit their social media connections and associations.
The power of Facebook and Twitter. Whenever you post something online, it's there forever.
Understand no one is safe from being fired out the cannon. But if you take steps to prevent your business from being out there, make it private and don't jeopardize your job by talking about it.