Jeb Bush caught some flack over the weekend. He labeled on his voter form he's Hispanic. Bush is White.
The inept Republican Party is fighting within itself. They are tired of losing the presidential elections.
They lined up two candidates who they thought could beat Barack Obama. That proved to be an epic failure.
Now the party is eager to take back the White House. As much as I hate to say it, the Republicans are more enthusiastic about the 2016 Presidential Elections.
The junk food media has given so much attention to the next wave of clowns running. They want to be the nominee who can beat Hillary Clinton and undo the legacy of President Barack Obama.
Each of the contenders have decent backgrounds. One in particular is the son and brother of two presidents.
John Ellis Bush or Jeb as most call him is the former Florida governor. He served two terms as Florida's governor. His term was marred with controversy after he passed the "Stand Your Ground" law and his meddling in the Terri Shavio affair.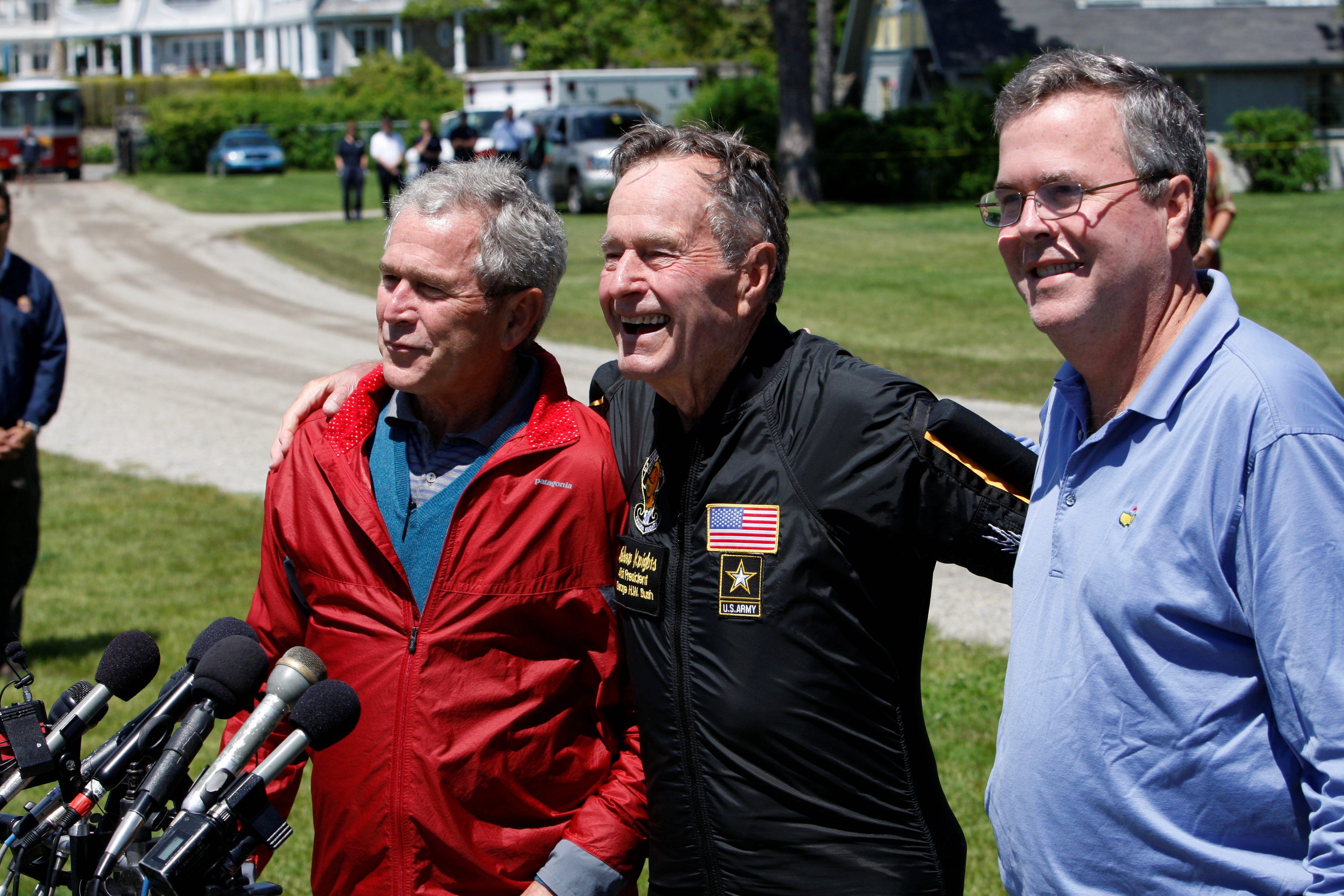 The family Bush. George W., George H.W., and Jeb.
Jeb was born in Midland, TX and grew up in suburban Houston. Bush grew up in Houston, Texas. He graduated from Phillips Academy in Andover, Massachusetts and then attended the University of Texas, where he earned a degree in Latin American affairs. Following his father's successful run for Vice President in 1980, he moved to Florida and pursued a career in real estate development. In 1986, Bush was named Florida's Secretary of Commerce, a position he held until resigning in 1988 to help his father's successful campaign for the Presidency.
In 1994, Bush made his first run for office, narrowly losing the election for governor by less than two percentage points to the incumbent Lawton Chiles. Bush ran again in 1998 and beat Lieutenant Governor Buddy MacKay with 55 percent of the vote. He ran for reelection in 2002 and won with 56 percent to become Florida's first two-term Republican Governor.
During his eight years as governor, Bush was credited with initiating improvements in the environment, as well as reforming the education system.
He is seriously considering a run for the nomination. He figures that many Hispanics voters could cross over and help Republicans secure a victory.
Bush can speak fluent Spanish. He is married to Columba Bush, a immigrant from Mexico. They have three children. George P. Bush his oldest son is the current Texas State Land Controller.
Jeb's dad was George H.W. Bush the 41st President of the United States. His brother George W. Bush was the 43rd President of the United States.
Unfortunately the majority White party he belongs to isn't so keen on it.

Start it off with Ted Cruz. The controversial Stallmigo from Texas is one of the many insurgents who are trying to keep Bush from winning this Republican nomination. Cruz, born in Canada is the first to announce he's running for the nomination. He and potential nominee fellow Stallmigo Marco Rubio of Florida are Hispanic and they will use this against Bush.
The New York Times reports that Bush may have become a bit carried away: He listed himself as Hispanic on a 2009 voter-registration application in Miami-Dade County.
A Bush spokeswoman said she had no explanation. But Mr. Bush went on Twitter on Monday to say:
Carolina Lopez, deputy supervisor of elections for Miami-Dade, said voters must submit hard copies of applications with a signature before receiving a voter information card that confirms their address and polling location.
According to the Florida Division of Elections, the application requires a signature because the voter is swearing or affirming an oath.
The New York Times obtained Mr. Bush's application from the Miami-Dade County Elections Department. Florida law requires that the signature, driver's license number and Social Security number be redacted before such a document is publicly released.
Mr. Bush, whose father and brother were president, is from a family that has been found to have strong ties to British and other European royalty.
While Mr. Bush, a likely Republican presidential candidate, may have made a mistake, confusion over heritage is no laughing matter during a campaign season.
Jeb Bush and his big family. From Top L-R, Jebby (with daughter). Noelle, and Jeb.
From Bottom L-R, Sandra, Columba, Amanda and George (with son).
During her Senate campaign in 2012, Elizabeth Warren of Massachusetts was accused of misrepresenting herself as Native American. Senator Ted Cruz, Republican of Texas, who has officially announced his presidential campaign, has had to explain that he is eligible to run, despite being born in Canada, because his mother is an American citizen.
Democrats were quick to criticize Mr. Bush for the error.
Albert Morales, the Democratic National Committee's Hispanic outreach director, said that Mr. Bush was "out of step" with Latinos, and the Florida Democratic Party suggested that he might have committed a felony.
Legal experts said that without evidence that Mr. Bush had intended to deceive, he was unlikely to face legal repercussions.
It is noted that Bush did run for governor back in the early 1990s. But during that time, Bush ran that year as a conservative, and a notable moment in this campaign was when Bush was asked what he would do for African Americans if he gets elected, responding: "It's time to strive for a society where there's equality of opportunity, not equality of results. So I'm going to answer your question by saying: probably nothing."
The Bush family is big. Even bigger now that NBC News anchor Jenna Hager, the daughter of George W. Bush is expecting her second child. Well wishes to Jenna.
Jeb Bush got a lot to prove. Because the public may not be hungering for a Bush in the White House.
Could he defy the odds?