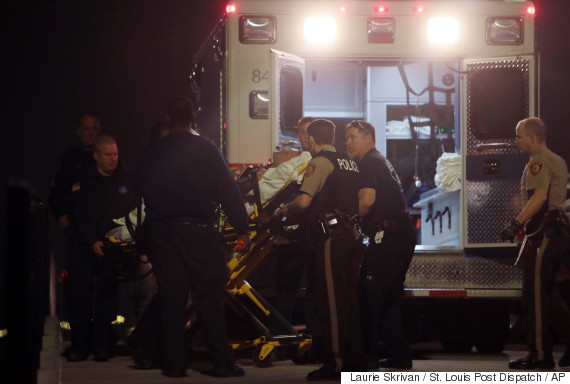 Tension mount in Ferguson. The chief of police resigns.
In the midst of resignation, here a bunch of dumb asses gave the racist right a reason. Two police officers were injured in an apparent shooting in Ferguson.


These two officers were doing riot control and out of nowhere comes the bullets. They were seriously injured. We here at Journal de la Reyna send our prayers to those injured. We wish for a speedy recovery.


This comes after the resignation of three officers who shared racist emails, the city judge who improperly fined Black motorists, the city manager who relished on revenue, and the police chief who was the human shield in the controversy that involved the killing of unarmed teen Michael Brown.
Tom Jackson was the chief of the Ferguson police. The controversial decision not to prosecute former officer Darren Wilson after he put rounds in the unarmed teen sparked weeks of unrest.
Loserville may hire former Ferguson sheriff Tom Jackson as an analysis.
The partisans have debated, insulted and insinuated that Michael Brown and Darren Wilson did have an altercation.
The Department of Justice dismissed the assertion that Brown had his hands up during the altercation.
Wilson did have non lethal restraints on him. The officer didn't have his camera on. He didn't activate his sirens when this altercation occurred.
This comes on the heels of the Department of Justice's scathing report saying that the city of Ferguson was improperly targeting Black motorists and residents more than any other minority.
There were some city workers sharing ignorant emails depicting President Barack Obama as a chimpanzee and First Lady Michelle Obama as a topless African dancer. Some of the controversial emails head over to
Myrightwingdad.net
for record.